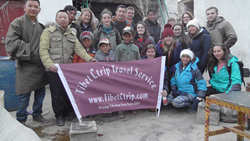 Interested parties are welcome to join a Tibet tour with a local Tibet Travel Agency!
Lhasa, Tibet (PRWEB) March 27, 2015
Booking Tibet group tours on a budget is now possible for the 2015 travel season with new and improved Lhasa cultural tours by Tibet Ctrip Travel Service (TCTS) (http://www.tibetctrip.com). By matching small travel groups, TCTS is able to reduce per person costs while avoiding the pitfalls of crowded, impersonal, large group tours. Over four days, travelers will visit some of Tibet's most important cultural sites and experience Tibet's stunning landscapes.
Tony of TCTS has the details:
Day 1: Arrive in Lhasa. The travel group's guide will meet them at the airport or train station and accompany everyone to their hotel. Staying well-hydrated and taking time to rest after arrival is the best way to avoid altitude sickness during a tour of Tibet.
Day 2: Sightseeing in Lhasa. While the itinerary is customizable, most enjoy beginning with Potala Palace. Not only is its architecture fantastic and decorations ornate, but it's also a great place to start learning about Tibetan culture and history. Afterwards, it's a short walk over to Jokhang Temple.
Day 3: More sightseeing in Lhasa or take a day trip to Lake Namtso. Those who stay in Lhasa can choose to visit places like Norbulingka (summer palace of the Dalai Lama), Sera Monastery, and Drepung Monastery (home of the Debating Monks). Those who make the trip out to Lake Namtso will enjoy an entire day of beautiful Tibetan scenery!
Day 4: Depending on the group's departure times, there may be an additional chance for last minute exploring or shopping before heading off to the airport or train station. The group's guide will see everyone off at the shuttle stop.
Tibet travel agency TCTS wants to make travelling in Tibet accessible to all travelers. Travelling in Tibet can be a pricey adventure when going at it alone, but with budget tours by TCTS, travelers can retain much of the ease and flexibility of a private tour. With the travel season right around the corner, now is the time to start planning a visit!