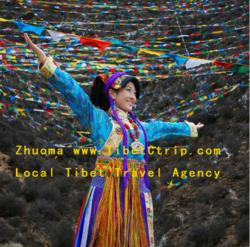 Tibet travel shopping advice to know before you go!
(PRWEB) June 04, 2013
Spending time hunting and bargaining for authentic souvenirs is an essential part of any Tibet tour. Many travelers feel they are living in a dream world as they browse through hustling and bustling markets. However, when landing in a new place, it can be difficult to know where and how to buy authentic souvenirs at the lowest possible prices. To help travelers find the best deals, Tibet Ctrip Travel Service-TCTS one local Tibet travel agency (http://www.tibetctrip.com) has released new shopping tips for the 2013 Tibet travel season. In general, travelers have had the best luck purchasing souvenirs, along with other arts and crafts, from Tibetan owned shops. TCTS provides details on where to buy, what to buy, and how to bargain.
Where to buy: Authentic souvenirs can be found all over Tibet, although, one of the most extensive selections can be found at Lhasa's Barkhor Bazaar. TCTS's Tibet travel itineraries include time for travelers to explore its winding pathways, filled with shops and souvenir stalls. There is also a Tibetan market in Shigatse, while the selection of souvenirs may be smaller; many travelers have found lower prices on souvenirs like prayer flags, prayer wheels, and Tibetan opera masks.
What to buy: There is no shortage of selection; travelers are likely to have no problem finding something that fits their tastes and interests. Deals can be had on everything from hand made jewelry and jade to beautifully woven Tibetan carpets and Thangkas. Travelers who have something specific in mind are advised to ask their native Tibetan guide for advice on where to find the best quality for the best price.
How to bargain: In most cases, items in shops or on souvenir stalls are not marked with prices. Bargaining is normal part of shopping in Tibet and is just as much fun for you as it is for the shopkeeper. Even items, such as jewelry, that are on display with marked prices are typically open for bargaining. It is not unusual for foreign travelers to be initially offered very high prices. Travelers are advised to respond with an offer well below the initial offer and not to be afraid to walk away if the shopkeeper is unwilling to budge. At the same time, don't push to hard and remember that a few RMB means much more to them than it would to most travelers.
Hunting down the perfect souvenir then negotiating the price is thrilling for many travelers. In Tibet, there are all sorts of authentic arts and crafts for purchase; travelers are welcome to ask their native Tibet guide for tips on finding the souvenir they are looking for. On a tour of Tibet, please remember to shop responsibly and support the Tibetan community. There's a souvenir to fit nearly all tastes and budgets, quality souvenirs help create lasting travel memories.
Devin Moore, author of this release, is a travel writer and independent economic analyst based in Springfield, Missouri USA. Devin enjoys travelling throughout Asia and his economic research is currently focused on airfare pricing. In partnership with local Tibetan travel agent TCTS (tibetctrip.com), Devin publishes Tibet travel related information in order to spread awareness of Tibet and its people.