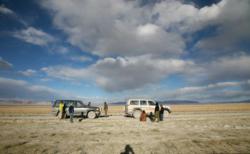 (PRWEB) May 17, 2012
Explore Tibet, a Lhasa-based Tibet travel agency focused on responsible tourism and Tibet kailash trek, introduces a 20-day photography tour across western Tibet. "This tour is for amateur and professional photographers," Explore Tibet said. "It's for anyone who wants to take the time to really capture Tibet's natural beauty. It's not about taking a few photos and then moving on. It's about spending time with the landscape."
Western Tibet is isolated on an alpine tableland, surrounded by mountains—the Himalayas lie to the south and the Gangtise Range (also called the Trans-Himalayan Range) lie to the north. Nomadic herders roam the plains tending flocks of yak and sheep and leading a traditional way-of-life.
This isolated part of Tibet has few roads, and the landscape remains virtually untouched. Photographers prize this area as some of the world's best scenery, especially the golden quality of light at sunrise and sunset. Deep blue, still lakes reflect the light and snow-capped mountain peaks. At Mt. Kailash religious pilgrims from all over the world walk in circumambulation, offering prayers and erasing the sins of a lifetime.
Kailash's 6,174-meter snow-capped peak stands prominent over the Barkha Plain, flanking the sacred lakes Manasarovar and Rakshas Tal. The distinctive shape of its four-sided summit stands stark against the Gangdise. This area is source of four of the longest rivers in Asia, the Indus, the Sutlej (a tributary of the Indus), the Karnali (a tributary of the Ganges), and the Brahmaputra. The remote, pristine location, along with these singular geographic features makes it easy to understand why Tibetan Buddhists believe Kailash to be the center of the world.
The tour takes travelers from Lhasa and its iconic monasteries and palaces to the ancient towns of Gyantse and Shigatse with a stop at holy lakes Yamdrok, Namtso and Manasarovar. The far western plains of Tibet are filled with diverse wildlife, including Tibetan gazelle and wild yak. Photographers will stop at the ancient relics of the Guge kingdom and view the canyons and sand dunes of the Sutlej Valley.
The final leg of the journey crosses into the Changtang Nature Reserve, protected land for wild yak, wild donkeys, blue sheep, gazelle, antelope, snow leopards, wolves and brown bears. This reserve is the world's second largest, covering an area of 300,000 square kilometers. A visit to the Changtang is a once-in-a-lifetime opportunity for any photographer.