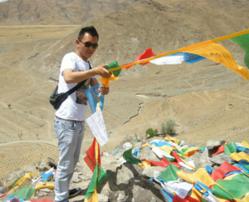 Tibet tourists had better have a practical Tibet travel map in hand when travelling in Tibet.
(PRWEB) May 13, 2013
Travelers often wonder "Where is Tibet on the map?" For many years, Tibet was a far off and inaccessible travel destination. Thanks to a rapidly evolving tourists infrastructure this is not longer true! In the last decade Tibet has become an easily accessible travel destination, drawing millions of visitors each year. Even travelers familiar with Tibet may still have questions about its geography and climate. Lhasa based Tibet travel agency Tibet Ctrip Travel Service-TCTS (http://www.tibetctrip.com), has recently released new information to help travelers answer these questions and plan their tour.
Located in the far southwestern corner of China, directly north of India and Nepal, Tibet is the highest altitude region on earth. Some consider it to be a part of East Asia and, due to its location; many consider it to be a part of Central Asia. Tibet is a huge country, bordering 5 nations: India, Nepal, Tajikistan, Burma, and Bhutan. Travelers are advised to look at a map of Tibet to learn more about its location.
Tibet's fantastic geography boasts towering mountains, even the world's tallest: Mt. Everest, sitting on the border with Nepal. Mt. Everest is surrounded by the world-famous Himalayas; not only are the peaks beautiful and the valleys expansive, these mountains are also the source of many of Asia's most important rivers, including: the Brahmaputra, Mekong, Yellow, and the Yangtze. The Himalayan region of Tibet alone provides for practically endless Tibet travel opportunities. As shown in Tibet travel maps, to the northwest, the Kunlun Mountains separate Tibet from East Tajikistan and the Qilian Range acts as a barrier between Tibet and the Gobi Desert of Xinjiang.
With such varied geography comes a varied climate. Central Tibet, home of cities like Lhasa and Shigatse, are hospitable year around. However, Mt. Kailash can be inhospitable throughout most of the year, Mt. Everest being a no-go in the winter months and subject to heavy rainfall in the summer. More desirable months for visiting these places include April, May, June, September, and October. High on the Tibetan Plateau, the northern part of Tibet experiences winter nearly year around and are suitable for most travelers only in the summer. TCTS will gladly help travelers plan their tour around Tibet's varied climate.
Although Tibet's geography is amazing the weather can be harsh, however an adventurous spirit and adequate preparation are nearly certain to mitigate its effects! While planning a tour, TCTS will advise travelers what kind of weather to expect and help travelers avoid inhospitable destinations. With relative ease, travelers can enjoy Tibet's stunning landscapes now that a developed tourist infrastructure is in place. The best season for a tour in Tibet is upon us; travelers are advised to start planning their tour of Tibet now.
Tibet Ctrip Travel Contact Address:
Post Address: Tibet Niwei International Travel Service, Co., Ltd (Niwei Building Room 302, No.13 North Linkuo Road,Lhasa,Tibet)
Tel/Fax(Lhasa area code):86-891-6342607,Mobile: 86-13628999610 (Tony), Post Code:850000
Email: sales(at)tibetCtrip.com, tibetCtrip(at)gmail.com
Devin Moore provided this news release above on behalf of local Tibet tour agency TCTS (tibetctrip.com). Devin is a travel writer and independent economic analyst based in Springfield, Missouri USA. His economic research is currently focused on airfare pricing. Devin Moore works to spread awareness of Tibet and its people through publishing Tibet travel information.