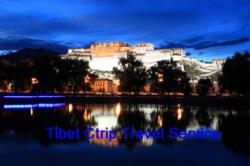 Tibet culture tours packages are available to select for Tibet tour in 2013.
(PRWEB) February 22, 2013
Those planning a trip to Tibet often find themselves with many places to visit in a short amount of time. Tibet Ctrip, a Lhasa based travel agency, understands travelers' needs and has created new culture tour itineraries that can be completed in as little as four days. With daily flights serving Lhasa, many choose to move on to Kathmandu or spend time exploring China after a short stay in Tibet.
Day 1: Arrive in Lhasa. A native Tibetan guide and driver will pick travelers up from the airport or train station and accompany them to their hotel. This is a great time for travelers to rest and relax while acclimatizing to the altitude. For those who choose to venture out and do some walking around Lhasa, it is important to take it easy and not over exert one's self. Be sure to drink lots of water!
Day 2: Today the adventure begins with a guided sightseeing tour of Lhasa! The Tibet tour will visit Jokhang Temple, Barkhor Bazaar, and Sera Monastery. Jokhang Temple is a destination for pilgrims from all over Lhasa and is home to the only known remaining image of the Shakyamuni Buddha that was created while he was alive. Barkhor Bazaar, the area surrounding Jokhang Temple, is filled with shops where travelers can practice their bartering skills while buying souvenirs. After, the tour heads to Sera Monastery where the group's guide will help them learn about Tibetan Buddhism.
Day 3: The second day of the tour is a very special one! It begins with a visit to Potala Palace. This is the highlight of any Tibet culture tour! Visitors will walk where Dalai Lamas have walked for hundred of years and see cultural treasures such as towering stupas and statues of gods. The next stop is Sera Monastery, home of the famous debating monks. Most days of the week the monks will spend the afternoon debating various issues related to their studies in Tibetan Buddhism. Tibet Ctrip will work with travelers to help schedule their tour on a day when the debates are taking place.
Day 4: The travel group's guide will accompany them to the airport or train station. The tour of Tibet ends here, if time allows, travelers are encouraged to extend their time with Tibet Ctrip into Nepal or China!
While four days is enough to cover some of Tibet's most famous cultural sites, the itinerary can be customized to fit travelers' needs and interests. Years of experience organizing Tibet travel gives Tibet Ctrip an edge in providing enriching culture tours, even when travelers are short on time. When traveling across Asia, a few days in Tibet helps create a diverse experience and unforgettable memories!
Asia travel writer Devin Moore authored this. Feel free to know Devin Moore, an independent economic analyst and travel writer in Missouri, USA.