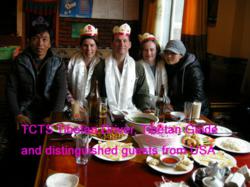 Responsible Tibet Travel Organizer
(PRWEB) February 19, 2013
TibetCtrip, a Lhasa based travel agency, is promoting responsible travel in Tibet by making visitors aware of the cultural differences between Tibet and many western nations that travelers come from. Here, they provide some important new culture tips for travel to Tibet in 2013. With an average elevation of over 4000 meters, Tibet remained inaccessible to most for a great portion of its history. A lack of outside influence has helped Tibet's culture blossom into one of the most unique places that can be found on earth. With the modern world rapidly encroaching on Tibet and its people, abiding by a few guidelines can go a long way in terms of helping local Tibetans feel comfortable with foreign visitors.
Ask permission before photographing people or religious sites. Just like anywhere else, some Tibetans may feel uncomfortable with having their picture taken while others may have no problem. Many monasteries and temples charge a fee for taking pictures. A native Tibet travel guide will know when and where photographs are okay and when paying a fee is necessary.
Avoid politically sensitive discussions in public. Tibet's political situation is unique. While political discourse is beneficial to societies the world over, given the situation, these kind of discussions may make some Tibetans feel uncomfortable.
Be Charitable. This is a great way to engage with locals on a Tibet tour. It is appropriate and appreciated to make donations at monasteries or temples. Also, food or money can be a great gift for a pilgrim. However, avoid giving candy or money to children as it encourages begging.
Try speaking Tibetan. While it's hard to pronounce and the words can be hard for westerners to remember, any attempt is appreciated. A simple "Tashi Delek" can brighten someone's day. So remember to learn some useful Tibetan travel language and try to talk with local tour guide, driver, shop owners and hotel staff with little simple local language.
Those traveling to Tibet are likely to experience a world different from anything they know. While it can be difficult to keep in mind every single cultural norm, making an effort to follow these guidelines of "travel to Tibet-know before you go" lets Tibetans know that you respect their culture and way of life. Tibet is a rapidly changing place and many Tibetans are trying hard to hold on to their unique culture before it slips away forever. When visiting, travelers must be mindful of their actions and how they affect locals.
For more information on how to set up a tour, contact a local Tibet travel agency. Devin Moore is the author of this article. Get to know the independent economic analyst Devin Moore.