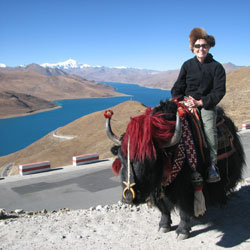 Welcome to check out more reliable Tibet travel tips from local agent in Lhasa!
Lhasa, Tibet (PRWEB) May 29, 2013
Travel in Tibet is world renowned for opportunities to see Tibet's stunning landscapes and learn about its fascinating culture. Tibet's political environment, combined with its varied geography and climate, make it important to be up to date on the latest travel information. With over 14 years of experience operating tour of Tibet, Lhasa-based travel agency, Tibet Ctrip Travel Service TCTS (http://www.tibetctrip.com) is providing travelers with firsthand travel information and helpful tips to make Tibet travel easy and worry free.
Tibet travel permits:
Tibet travel permits are now available for groups of all sizes, including individuals, who are planning a tour. Like other countries, travelers should have a valid visa in order to enter. When applying for a Chinese visa, it is best for travelers to mention their inbound destination in Mainland China (such as Bejing or Shanghai) on the application. Due to Tibet's sensitive political environment, some travelers have had visas refused when mentioning Tibet on the application form. The application process works as follows:
1. Travelers schedule a Tibet tour with their travel agency at least one month in advance.
2. At least 20 days prior to arrival in Tibet, travelers will need to provide their travel agency with copies of passports and Chinese visa pages.
3. As soon as possible, provide a mailing address in China (such as travelers hotel) for permit delivery.
4. Bring permits to the airport or train station and leave for Tibet worry free!
Health and Safety:
Travelers will need to prepare for weather that can sometimes be harsh. Most importantly, travelers need to take steps to prevent acute mountain sickness, also known as altitude sickness. Symptoms can range anywhere from headache and mild dizziness to vomiting or fainting. To minimize the altitude's affects:
1. Try to ascend gradually, allowing plenty of time for acclimatization. Sleep at lower altitudes if possible. Tours of Tibet operated by TCTS allow for plenty of time for acclimatization in Lhasa.
2. Learn how to recognize the symptoms. According to the U.S. National Library of Medicine, early diagnosis is important; travelers who notice symptoms early can more quickly take oxygen or move to lower altitudes.
3. Acetazolamide (Diamox) may help improve breathing and reduce symptoms of AMS. When taking this drug, it is important to drink lots of fluids and avoid alcohol.
4. Keep well hydrated while in Tibet, especially when engaging in physical activity.
Tibet is a travel destination drastically different from many other travel destinations; keeping up to date on the latest travel information can help travelers avoid last minute hassles. Tibet travel agency TCTS (Lhasa-based travel agency) aims to help travelers have a smooth and easy trip. All questions and concerns are welcomed. Also, Travelers to Tibet can obtain reliable Tibet travel review which was offered by TCTS's clients in the past. With summer in Tibet right around the corner, travelers are advised to start planning now.
Tibet Travel Agency TCTS Contact Address:
Post Address: Tibet Niwei International Travel Service, Co., Ltd (Niwei Building Room 302, No.13 North Linkuo Road, Lhasa, Tibet)
Post Code: 850000
Tel/Fax (Lhasa area code):86-891-6342607,
Mobile: 86-13628999610 (Tony),
Email: sales(at)tibetCtrip(dot)com, TibetCtrip(at)gmail(dot)com