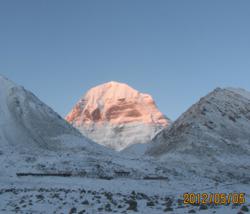 Useful Tibet travel advice on Tibet permits, tour timing and duration for travel to Tibet in 2013
Lhasa, Tibet (PRWEB) February 07, 2013
Tibet Ctrip Travel Service (TCTS) is one Lhasa based tour company and tour operator since 1999. Currently They offer some practical Tibet travel advice on permits and visas, tour timing and tour duration tips as below for 2013. Follow their guidelines to avoid any hassles when planning a Tibet tour.
Special travel advice on Tibet permits, timing and tour duration:
1) January, February and March time is generally the colder time in Tibet. It is very windy, dry and the air is quite thin. Oxygen standard is much lower than from May to September. People can not get used to the high altitude easily. That is one reason why most tourists do not choose to come to Tibet this time. On the other hand, tour agencies do not apply permits for travel to Tibet since it is quite complicated, and in most cases the permits applications will be rejected regardless of nationality, and group size. It is wise to enter Tibet no earlier than April 5 due to the harsh weather and urgent permits and visa cases which may infect the flights or train schedules.
2) If tourists travel from Nepal to Tibet, they are required to obtain a Chinese visa in the consulate of P.R China in Kathmandu; the opening time for the Consulate of P.R China in Kathmandu is only available between 9:30 A.M and 11:00 A.M on each Monday, Wednesday and Friday. Please note this visa application is compulsory thus travelers do not need to waste time and money to apply individual China visa before arrival in Nepal for Tibet entry use since this is regulated by the border treaty signed between Nepal and China.
3) As there are several different types of Tibet permit depending on where the traveler plans to go. To apply for the permit, travelers should send their valid passports copy and a copy of their China visas to an authorized travel agency 4-5 weeks at least to avoid any urgent cases. For travel to a restricted region like Mt. Kailash, the agent much prepare all permit paper work at least 20 days in advance because there are more permits such as foreign affairs permits and military permit involved. So it is better to fix a comfortable Tibet tour departure date (not between Feb.1 and April 5) and arrange air tickets earlier with discounts if available.
4) For culture and easy landscape trip, it is good to go to Tibet from May to December. But for tough road adventure in higher altitude area, it is better to visit Tibet in May, June, July, August, September and October to avoid the harsh weather.
5) 3 to 4 days time is only suitable for tour in and around Lhasa and people can visit the famous tourists' attractions of Tibet such as Potala Palace, Jokhang Temple, Barkhor Streets, Ganden Monastery and Drakyerpa Hermitage in east Lhasa. If travelers have only 4-5 days time, it is good to combine one day trip of Namtso Lake or Tsetang Yarlung valley. And if travelers have 6-7 days time, they can combine the Gyantse and Shigatse city sightseeing along with the scenery along the way. For Everest Base Camp tough adventure trip, it is suggested to have around 8 to 9 nights in Tibet because travelers need time to get well acclimatized especially for those tour groups having young or old, or people with no higher altitude life experiences but stay in sea level most of their life. Finally for the trip to Mt. Kailash and Manasarovar, it is suggested to have no less than 2 weeks because it is with about 3000 km round-trip transportation and it depends on tourists' personal requests on budget, schedule and interests.
For more up-to-date Tibet travel information and tour services in 2013, just contact the travel agency in Tibet now.