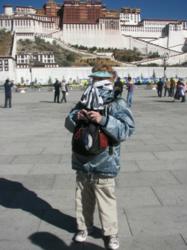 Visit Tibet's top attraction of Potala Palace in a Lhasa culture tour.
(PRWEB) February 14, 2013
With so many famous cultural attractions in Tibet now open to visitors, it can be difficult to narrow down which ones to include in a Tibet vacation. Tibet Ctrip Travel Service, a Tibet based travel agency, has released a new list of Top 10 Tibet travel destinations and tourists attractions. Here is the list section A. Many of these must see destinations are located in and around Lhasa so even travelers on a tight schedule won't miss out!
1. Potala Palace. This gargantuan architectural wonder was once the center of political activity in Tibet and today is regarded by many as one of the most important cultural and historical sites in the world. Here, visitors will walk where Dalai Lamas have walked for hundreds of years and gaze upon fantastic works of Tibetan Buddhist art.
2. Jokhang Temple. Another one of the must see attractions in Tibet. Jokhang Temple houses the only known image of the Shakyamuni Buddha that exists today. Made in his twelve year old likeness, it is a holy destination for Tibetan Buddhist pilgrims from all corners of Tibet.
3. Barkhor Bazaar. Incense that burns in giant chimneys wafts through the bustling bazaar. Vendors sell everything from arts and crafts to food and household items. Barkhor Bazaar is a great place to try out bargaining skills while picking up souvenirs for friends and family back home.
4. Sera and Drepung Monasteries. Situated just outside of Lhasa, Drepung Monastery is one of Tibet's three greatest monasteries (Sera and Ganden are the other two) and has long been regarded as a place of higher learning for Tibetan Buddhists. Sera Monastery is home to the famous debating monks, which can be seen in the afternoons most days of the week.
5. Ganden Monastery. This beautifully reconstructed monastery is one of the earliest and largest Buddhist monasteries in Tibet. Originally it was a center of administrative and political power for the Geluk order of Tibetan Buddhism.
Whether visiting Tibet to learn about culture, do some trekking, or even mountain biking these sites cannot be missed. Travelers on a short Tibet tour will find that all five of these places can be covered in about three days. For those staying in Tibet a little longer, be sure to ask a travel agency how they can be included in the group's itinerary. Following the section A, the Top 10 Tibet travel attractions section B is coming up. Travelers can follow the Tibet tour operator for more details.
With regards to how to set up a tour, contact a Tibet Travel Agency. Devin Moore authored this release; Devin is a Tibet travel enthusiast who is training to become an econometrician. Get to know Devin Moore.