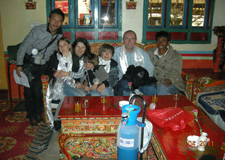 Tibet travel is easy as ABC with local tour agency in Lhasa. Just click to www.tibetctrip.com to get more information!
(PRWEB) May 30, 2013
Full of scenic landscapes, monasteries, and world-famous historical sites, Tibet travel packs many different kinds of experiences into one. Tibet is a place drastically different from many of the countries that its visitors hail from. For a smooth and enjoyable experience, travelers are advised to plan in advance and take time to learn as much about Tibet as possible. To help travelers make informed travel decisions Lhasa based travel agency, Tibet Ctrip Travel Service-TCTS (http://www.tibetctrip.com), discusses 5 things Tibet travelers should no before coming to Tibet.
Tibet Travel Permit
All foreign travelers entering Tibet must have a Tibet travel permit. This will be checked before boarding trains and planes. By law, a properly registered travel agency will apply on travelers' behalf. Per application requirements, travelers must provide their travel agency with a copy of their passport and visa before arrival in Tibet. If arriving from Mainland China, the permit will be mailed to travelers' hotel in China. If arriving from Nepal, the groups guide will meet them at the border with the permit.
Best time to visit.
While some areas of Tibet are hospitable year around, the best time to travel Tibet is from April to June and September to October. Monsoon rains in July and August bring the risk of landslides; these times are best avoided. The best time to visit may vary based on where in Tibet a travel group's tour visits, TCTS is always happy to advise travelers on when and where to go.
How to get there, around, and out.
The quickest and easiest way of travel to Tibet is by air, daily flights serve Lhasa from several major Chinese cities and there are multiple flights from Kathmandu every week. The most scenic routes are by train and overland (some routes may not be open to foreign visitors at this time). Within Tibet, travel groups must have their own driver and are not allowed to use public busses outside of Lhasa, TCTS will arrange for a car and experienced Tibetan driver.
Altitude sickness
Most people who tour Tibet will, at some point, feel the affects of the altitude. Many times this is just a mild headache, shortness of breath, or fatigue. The best way to avoid altitude sickness is to stay well hydrated prior to arrival and during the tour. Over the first few days, avoid intense physical activity. TCTS arranges for a guided sightseeing tour of Lhasa at the beginning of every tour, this allows time for acclimatization to the altitude.
Money issues
The local currency is the Chinese Yuan. As a general rule of thumb, travelers should expect to use cash for all purchases in Tibet (TCTS is able to take Paypal or wire transfer for tour related transactions). Reliable ATMs provided by major banks, such as Bank of China, are available in Lhasa. With the exception of a cash advance at a bank, credit cards are typically not accepted. Travelers should alert their bank of foreign ATM withdrawals before leaving their home country. Should ATM card issues be encountered, most banks have an international collect customer service hotline.
These five things to know before going to Tibet are among travelers' most common questions and concerns. Taking time to learn about Tibet and plan a tour of Tibet in advance is key to a smooth and enjoyable experience. TCTS welcomes any and all Tibet travel related questions, and is always happy to offer suggestions on tours. With the 2013 Tibet travel season coming into full swing, travelers are advised to start planning their trip now.
Tibet Travel Agency TCTS Contact Address:
Post Address: Tibet Niwei International Travel Service, Co., Ltd (Niwei Building Room 302, No.13 North Linkuo Road, Lhasa, Tibet)
Note: Tibet Ctrip Travel Service is one online brand of Tibet Niwei International Travel Service, a registered travel agency in Lhasa since 1999).
Post Code: 850000
Tel/Fax (Lhasa area code):86-891-6342607, Mobile: 86-13628999610 (Tony), Email: sales (at) tibetCtrip (dot) com, TibetCtrip (at) gmail (dot) com
Devin Moore provided this news release above on behalf of local Tibet tour agency TCTS (tibetctrip.com). Devin is a travel writer and independent economic analyst based in Springfield, Missouri USA. His economic research is currently focused on airfare pricing. Devin Moore works to spread awareness of Tibet and its people through publishing Tibet travel information.