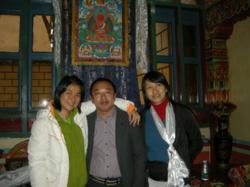 Know before going to travel Tibet!
(PRWEB) June 03, 2013
Now that the Tibet travel season is in full swing, it's time to start planning this year's adventure. To help travelers arrive with a deeper understanding of Tibet, TCTS provides 5 facts visitors to should be familiar with. TCTS's tours of Tibet are filled with opportunities to visit monasteries and cultural sites, travelers' native Tibetan guide will help them learn about Tibetan Buddhism and the core values of Tibetans in general. In addition to learning about Tibetan culture, visitors will also have opportunities to see high altitude natural wonders like Lake Yamdrok, Mt. Kailash, and the world-famous Mt. Everest. Taking time to develop an understanding of Tibet goes along way enjoying and understanding the cultural, historical, and natural heritage sites travelers' visit.
1. Religion is an important part of every day life in Tibet. Travelers are likely to see countless pilgrims prostrating in front of and walking clockwise around (Khora) important cultural sites while the chanting mantras and spin prayer wheels.
2. There are four major sects of Tibetan Buddhism. Worshipers at different monasteries sometimes have different beliefs; on a Tibet tour travelers typically visit several monasteries and have the opportunity to learn about these different sects and how their beliefs differ. TCTS's native Tibetan guides are happy to answer travelers' questions.
3. Tibetan Barley is a staple in the diet of Tibetans. This special kind of barley grows only in Tibet; it is used to make food like momos and thukpa (Tibetan noodle).
4.Tibet is Earth's highest altitude region. At an average altitude of 4,900 meters, Tibet's landscape is full of breath taking mountain landscapes! Even Lhasa, Tibet's capital, sits at 3,600 meters. Travelers are encouraged to drink lots of water while in Tibet to avoid altitude sickness.
5. Tibet tourism helps the average Tibetan. Although subsistence agriculture is the source of livelihood for many Tibetans, the local economy also depends on tourism. Incomes in Tibet are lower than many other nations and quality job opportunities can be difficult to find. Buying souvenirs from Tibetan shops and eating in Tibetan restaurant while traveling in Tibet helps families who depend on income from tourism.
A visit to Tibet is a unique and unforgettable experience for the majority of travelers who make the adventure. Taking time to develop a basic understanding of Tibet's culture and geography helps travelers hit the ground running and learn as much as possible on their tour. Between stunning mountain landscapes and fascinating experiences with local culture there is seldom a dull moment to be found; travel groups can learn about Tibetan culture and history at monasteries and temples or adventure through high altitude scenery on a multi-day Tibet trekking. With the best season for Tibet travel upon us, travelers are encouraged to start planning their tour now.
Devin Moore, author of this release, is a travel writer and independent economic analyst based in Springfield, Missouri USA. Devin enjoys travelling throughout Asia and his economic research is currently focused on airfare pricing. In partnership with local Tibet travel agent TCTS (tibetctrip.com), Devin publishes Tibet travel related information in order to spread awareness of Tibet and its people.