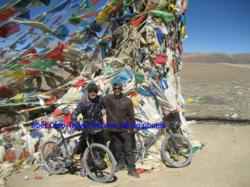 Tibet Travel FAQs-Important Questions and Answers for Tibet Vacation 2013.
(PRWEB) February 23, 2013
Tibet Ctrip Travel Service (tibetctrip.com-TCTS) is helping tourists to make Tibet travel decisions by answering some of the most frequently asked questions. When planning a trip to Tibet it can be easy to end up with more questions than answers. This is especially true for travelers who have minimal experience traveling in Asia or have never traveled overseas at all. Through years of experience TCTS has identified some common questions and provides new straightforward answers.
Questions and answers in a tip sheet:
1) How should a Tibet travel agency be chosen?
This is largely dependent on the traveler's needs and interests. If a group is interested in doing trekking or mountain biking they will want to make sure to use a travel agency that can accommodate these kind of adventures. If culture is the focus of the trip, then they will want to make sure that the travel agency provides itineraries with plenty of opportunities to see monasteries and temples along with opportunities to engage with locals. In any case, it is important to choose a travel agency that employs native Tibetan service staff and works responsibly to local Tibetan communities and economy.
2) Can tourists use credit cards in Tibet? Are the ATMs reliable?
As a rule of thumb, do not expect to be able to use credit cards in Tibet very conveniently. Although some higher end hotels and shopping malls may be able to accept credit cards the vast majority of retailers take cash only. This includes most restaurants and souvenir shops. The ATMs at major banks (such as Bank of China) are reliable and can be found throughout larger cities and towns in Tibet. To avoid problems, banks should be alerted to foreign ATM transactions before travelling to Tibet.
3) What to pack for a trip to Tibet?
This depends on the nature of the trip and time of year. Layering is the way to go. The weather can get warm during the day but can rapidly change to rain or snow in the mountains and get very cold at night. Trekkers will need to bring appropriate shoes. Bring more than enough prescription and over the counter medications, hand sanitizers, and toilet paper. Also, due to the intense sun and dry air: lip balm/chap stick and other moisturizers, sunscreen, sunglasses, and a good hat are all very important.
These are among the most frequently asked questions on Tibet travel by those planning a trip to Tibet. Tibetctrip.com will be providing answers to more questions in the coming future. For specific questions about overland, cultural, Kailash pilgrimage, trekking, or mountain biking tours, just get in touch with Tibet Ctrip Travel Service-TCTS directly. When planning a trip, it is easy to wind up with more questions than answers at first. Travelers are advised to start planning early to make sure they are able to plan their dream tour of Tibet.
Asia travel writer Devin Moore authored this. Feel free to know Devin Moore, an independent economic analyst and travel writer in Missouri, USA.