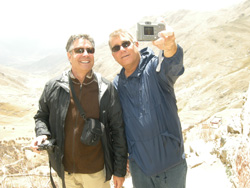 Apply Tibet travel permits efficiently with local professional Travel agency www.tibetctrip.com!
(PRWEB) May 11, 2013
Tibet travel permits are now available to travelers planning a tour of Tibet. For a portion of the last year, tourism regulations had prevented foreign travelers from entering Tibet. To the relief of adventurers around the world, this is no longer the case. Now, travel permits can be issued to travelers of all group sizes, including individuals. Tibet Ctrip Travel Service-TCTS (http://www.tibetctrip.com), a Lhasa based travel agency, aims to take the confusion out of Tibet's tourism regulations by explaining the permit application process and what TCTS needs from travelers to ensure a smooth travel experience.

No less than three weeks before traveler's arrival in Tibet, TCTS will request copies of traveler's passports and Chinese visas. If these documents are available at the time of booking, please send them then. These are required documents for the permit application. For travel permits, sending these documents is all travelers have to worry about; TCTS takes care of the rest.
After the application has been submitted, the permit takes anywhere from 2-5 working days to be issued. For travelers arriving from Mainland China, TCTS will send the permit to the hotel they are staying at prior to traveling in Tibet; it will be required in order to board the train or check in for a flight. TCTS does not mail permits internationally; travelers' native Tibetan guide will meet them at the border if coming from Nepal.
Although permits are being issued to travel groups of any size, groups comprised of different nationalities will not be able to obtain a single permit for their Tibet tour. It may be possible to obtain permits for each individual; details can be provided while planning the tour.
The recent change in Tibet tourism regulations is allowing visitors countless opportunities to take in Tibet's breath taking landscapes and engage with local culture. Travelers must remember that tourism regulations can change at any time; these risks will have to be accepted when booking a tour of Tibet. TCTS will be more than happy to help travelers change their itinerary or provide refunds in the event that there is a sudden change in regulations. These regulations are beyond the control of any travel agency, so flexibility and understanding is appreciated. With summer in Tibet rapidly approaching, travelers are encouraged to start planning and book their tour together with Tibet travel documents arrangement now.
Devin Moore announced this news release above on behalf of local Tibet tour company TCTS (http://www.tibetctrip.com). Devin is a travel writer and independent economic analyst based in Springfield, Missouri USA. His economic research is currently focused on airfare pricing. Devin Moore works to spread awareness of Tibet and its people through publishing Tibet travel information.
Tibet Ctrip Travel Service contact details:
Post Address: Tibet Niwei International Travel Service, Co., Ltd (Niwei Building Room 302, No.13 North Linkuo Road,Lhasa,Tibet)
Tel/Fax(Lhasa area code):86-891-6342607,Mobile: 86-13628999610 (Tony), Post Code:850000
TibetCtrip(at)Gmail(dot)com, Sales(at)tibetCtrip(dot)com