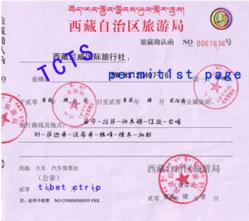 Apply Tibet travel permits and visa with local reliable Tibet travel agency in Lhasa!
(PRWEB) April 05, 2013
To the joy of travelers around the world, Tibet travel permits are now being issued! For the portion of the last several months, local tourism regulations had prevented foreign travel in Tibet. Tibet Ctrip Travel Service-TCTS, one local Lhasa travel agency, works to keep travelers informed of the latest news and put travelers mind at ease by helping them understand the application process. To help traveler's know what to expect when planning a tour of Tibet, TCTS discusses the new regulations and the process they follow for obtaining permits.

Three weeks before traveler's arrival in Tibet, travelers will need to confirm their tour with their travel agency and send copies of passports and Chinese visas. Tibet travel agencies, like TCTS, use these documents to prepare the permit application. After completing the paperwork the documents will be submitted to the Tibet Tourism Bureau. Depending on travelers tour destinations it may be necessary for the travel agency to obtain additional permits. Travelers need not worry about the details; Tibet travel agencies are required by law to apply for all permits on traveler's behalf.
Permits are now being issued to groups of all sizes, including individual travelers. At this time, groups of travelers of different nationalities cannot obtain a single travel permit for their Tibet tour. In situations like these, it may be necessary for the travel agency to obtain permits for each individual.
Once the application has been submitted, it takes anywhere from 7-10 days for the permit to be issued. Travelers arriving from Mainland China will need to present their permit before boarding trains or checking in for flights. For traveler's convenience, TCTS will mail permits to traveler's hotel in China. For those arriving from Nepal, a group's native Tibetan guide will meet them at the border (for those coming overland) or at the airport in Lhasa. They will bring with them the permit and assist travelers through the immigration procedure. To minimize risk TCTS does not mail permits internationally.
The opening of Tibet to foreign travelers creates countless new opportunities for those looking to explore unmatched natural scenery and engage with a unique ancient culture. Understanding the procedure travel agencies follow to obtain Tibet travel permits 2013 can help put travelers mind at ease. However, it is important for travelers to remember that travel policies can change at any time with little to no advanced notice. TCTS keeps travelers informed and will help travelers adjust their itinerary should their tour be affected by a change in travel policy. With travel permits now being issued and spring in Tibet right around the corner, travelers are encouraged to start planning their tour of Tibet now.
Devin Moore provided this news release on behalf of local Tibet tour agency TCTS (tibetctrip.com). Devin is a travel writer and independent economic analyst based in Springfield, Missouri USA. His economic research is currently focused on airfare pricing. Devin Moore works to spread awareness of Tibet and its people through publishing Tibet travel information.