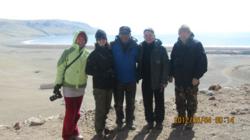 Travel to different regions in Tibet!
(PRWEB) February 17, 2013
TibetCtrip.com, one Lhasa based Tibet travel agent, has recently been helping tourists understand Tibet travel. By breaking Tibet down into five new distinct travel regions, travelers can customize tours to their specific interests. Those looking for cultural experiences may want to focus their time in Yarlung Valley and Lhasa, while those looking for adventure may be best suited by a visit to Mt. Everest or the Mt. Kailash-Lake Manasarovar region. Tibet is diverse land, taking time to learn about what each region has to offer is the best way of maximizing the value of any Tibet tour.
Lhasa and Yarlung Valley:
Travelers looking for a focused Tibet Culture tour, without sacrificing opportunities to see beautiful scenery, will want to spend most of their time in this region. Learn about Tibetan culture at places like Potala Palace, Jokhang Temple, and while watching the debating monks of Sera Monastery. Then escape Lhasa to delve into the history of Yarlung Valley, cradle of Tibetan civilization.
Central Tibet:
This area includes Gyantse, Shigatse, and Lake Yamdrok. Another great stop for travelers focused on culture! Shigatse is home to Tashilhunpo Monastery, seat of the Panchen Lama and home to a towering statue of the Maitreya Buddha. The small town of Gyantse features fantastic Tibetan Buddhist art in Kumbum Pagoda and provides opportunities to learn about Buddhism in Pelkhor Monastery.
Nyingchi-East Tibet:
This region of Tibet features towering mountains, alpine lakes, and Yarlung Zangbo Canyon, which is the world's deepest canyon. This part of Tibet is off the radar of most that travel Tibet and is great for getting in touch with nature.
Kailash-Lake Manasarovar Region:
Join the thousands of Hindus, Buddhists, and followers of Bon who make the trek around the based of the Holy Mt. Kailash. A long the way travelers will see the enormous lake Manasarovar.
Everest Region:
This remote destination was once the reserve of few intrepid travelers. Improved tourist infrastructure makes standing at the base of the world's tallest mountain accessible to almost all travelers! The adventurous can even take a four day trek from inside Mt. Everest nature preserve all the way to base camp!
Depending on the time of year and interest of travel groups, a tour can be customized to focus on specific areas. Thoroughly researching travel options and taking the time to ask a travel agent questions is the best way to get the most out of a visit to Tibet!
About tibetCtrip.com,
Tibet Ctrip Travel Service (TCTS) is one Lhasa based travel agent. Their travel services experiences and tour offers are highlighted and professional. When booking a Tibet tour, travelers are suggested to inquire one agent that supports the Tibetan economy, culture and local Tibetan communities. TCTS is such one and that is why it is one Tibet travel agency recommended.