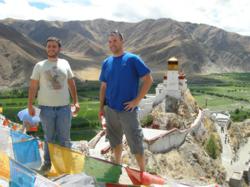 Tibet Ctrip Travel Service-TCTS offers all sorts of Tibet tours with better prices, better services 2013.
Lhasa, Tibet (PRWEB) January 16, 2013
Tibet Ctrip Travel Service- TCTS is one Lhasa based Tibet travel agency since 1999. TCTS is the online brand of the Intl. Department of Tibet Niwei International Travel Service (International Department since 1999, Tibet Niwei is a licensed international travel agent in Lhasa). It is a Lhasa based travel agency and Tibet tour operator. By far this Tibet travel agent has been operating Tibet tours for more than 13 years. Their footprints covered all corners of Tibet; their experienced drivers are extremely familiar with every part of Tibet road condition because they have driven on the rough road in Tibet for many years. Now, they have new special Tibet tour prices for 2013.
TCTS's Tibet travel service highlights and differences
1) Tourists can get 100% Tibetan local tour guides, more importantly, and they can get EXPERIENCED and QUALITY Tibetan guide;
2) Tour licensed vehicles with good conditions and experienced drivers who are familiar with Tibet roads;
3) They create customized tour itineraries designed to enhance the overall brand experience; tourists can get further off-the-beaten-track;
4) They provide instant Tibet Travel support before, during and after the whole trip;
5) They offer competitive prices, they are not middle handlers.
With many years Tibet tours organization experiences, TCTS specializes in Tibet. They offer very reasonable Tibet travel prices and professional tour services. Below TCTS announces travel services for all kinds of Tibet tours, trekking adventures, biking trip, Kailash tours packages and here is one list:
1) Adventures of Tibet Kailash Tours, Tibet Trekking and Tibet Mountain Bilking;
2) All Classical Tibet Tours Packages in Tibet with Tibet Travel Permits application;
3) All Tibet Overland landscape tours (driving into/out of Tibet from Chengdu, Xining, Shangri-la, Kashgar or Kathmandu, Nepal);
4) All China and Nepal domestic flights ticketing; Qinghai Tibet Train travels
5) Personal or Private tour packages (we design according to your interests and budgets) and Budget Tibet Join in Tours.
They also provide practical and latest Tibet travel information such as Tibet Travel tips on Tibet Travel Permits, ways of getting to Tibet (by air or train travel to Tibet), Tibet travel news, hotels, maps, and we build other pages for travelers to learn about the people, history, culture and religion, Tibetan Traditional Festivals, and Tibet Tourists highlights attractions such as Mt. Everest, Mt. Kailash, lake Manasarovar, Potala Palace, Jokhang Temple and more.
Why not contact this local reliable Tibet tours agent for any Tibet travel information you many need? TCTS team will get back to you with their expertise, credibility, sincerity and enthusiasm soon.