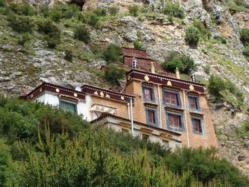 (PRWEB) May 13, 2012
Explore Tibet, a Lhasa-based Tibet travel agency committed to responsible tourism and kailash trek, now offers a half-day hike with guide to the Drak Yerpa Hermitage. This excursion is available as part of Explore Tibet's custom-designed trips.
"We seek to provide a variety of sightseeing opportunities to our clients," Explore Tibet said. "This flexibility means our clients don't have to follow a rigid schedule, like most pre-packaged Tibet tours. They can look over the many options and choose what is most important to them."
Drak Yerpa, a cave and holy retreat center, is 34 kilometers northeast of Lhasa near a tributary of the Lhasa River. Hikers and pilgrims climb up winding stairways to a complex of caves and temples. Some of the caves on the ridge were inhabited by hermits as far back as 1500 years ago. Several important religious and historical figures spent time in retreat in the caves, including Guru Rinpoche and King Songsten Gampo.
The caves are naturally beautiful, with a view over-looking the valley. Some contain chapels of large statues of Buddhist figures, including a thousand-armed depiction of Chenresig, the Tibetan name for the Buddha of Compassion. One cave is infamous for housing a criminal, the assassin Lhalungpuk. Legend goes that he murdered the Bon king Langdharma in 842 and fled to Drak Yerpa to hide out in a cave for the next 22 years.
"There are so many interesting cultural sites around Drak Yerpa," Explore Tibet said. "The area also has many scenic hiking routes."
More about mt kailash trek, visit:http://www.seattlepi.com/business/press-releases/article/Explore-Tibet-introduces-17-day-pilgrimage-to-3502917.php