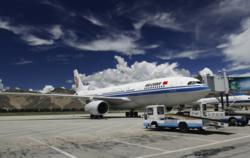 Travel to Tibet and see the real Tibet in 2013
(PRWEB) February 09, 2013
Tibet travel popularity has held steady even with constantly changing travel permit regulations. Although the political situation in Tibet can, at times, be somewhat turbulent, most tourists are highly unlikely to experience any sort of trouble. Over the last several years Tibet's infrastructure has seen drastic improvements, allowing better access to tourist destinations, and hotels with modern conveniences provide many of the comforts travelers are looking for. Improvements like these have been the key to Tibet's accessibility to foreign tourists and have helped it retain popularity as travel destination.
Although there are restrictions on travel within Tibet, a registered travel agency will take care of the details to help ensure a smooth trip. Before travelers arrive, a travel agency will apply for Tibet travel permits on their behalf. If entering through China, the permit will be mailed to the travelers' hotel before entering. If entering through Nepal a guide will meet the group at the border with Tibet. As long as travelers follow the guidelines provided to them by their travel agency, travel permits are rarely denied. While additional permits may be needed for travel outside Lhasa, a guide will ensure that these are obtained before leaving.
Previously, the journey to many of Tibet's natural wonders was long arduous. Now many flights serve Lhasa, Tibet's capital, daily and after a couple days of acclimatization to the altitude, most tourists are ready to begin their adventure. After a Tibet tour leaves Lhasa, destinations like Mt. Everest Base Camp can be reached in a couple days of easy driving. While more remote natural and cultural wonders such as Mt. Kailash require a longer journey over some bumpy roads, a four-wheel drive vehicle can complete the adventure with no problem.
There is a wide range of accommodations available in Tibet to fit every budget. In larger cities, like Lhasa or Shigatse, hotels have many of the modern amenities that travelers have come to expect. In more remote areas Tibet hotel options may be more limited, however most hotels and guesthouses have friendly staff and a vested interest in doing everything they possibly can to ensure that foreign travelers are comfortable. Tour operators will work with travelers to match their budget and preferences.
Development in Tibet has made travel much easier, natural wonders and cultural sites that were previously difficult to reach are remarkably accessible. Even in periods of political instability in Tibet, foreign travelers will have no problems as long as they follow any travel guidelines that may be in place at the time. A properly registered travel agency will take of any necessary permits and let you know if any special travel restrictions go into place. Lonely Planet's Thorntree forum is recommended reading for Tibet news and ideas for planning tours. With the travel season in Tibet coming up soon, be sure to start planning as soon as possible!
For more information on how to set up a tour, contact a Tibet travel agency. Devin Moore authored this release; Devin is a Tibet travel enthusiast who is training to become an econometrician. Get to know Devin Moore.