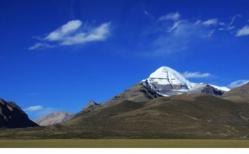 (PRWEB) May 15, 2012
Tibet's holy Mt. Kailash is sacred to three religions, and pilgrims from all over the world travel to this remote Himalayan mountain to circumambulate, offer prayers, and receive blessings. But travelers to Mt Kailash trek should be aware of a hidden danger—recently, an elderly couple from Singapore died during their Mt. Kailash trekking tour as a result of Acute Mountain Sickness (AMS).
AMS, also called altitude sickness, is caused by rapid exposure to low air pressure, triggered by ascending from a lower elevation to a higher elevation very quickly. The change in air pressure makes less oxygen available to the lungs.
The average altitude in Tibet is 4,000 meters, and AMS can occur within hours after a person ascends to an altitude of 3,000 meters or more. For most tourists this is as simple as getting off the plane in Lhasa, which has an elevation of about 3,500 meters. Clinics are available in Lhasa, but in remote destinations like Mt. Kailash it's important for travelers to take precautions and communicate with their Tibet travel agency and guides ahead of time about this potential danger.
AMS can be prevented and treated safely if travelers and tour guides act responsibly. Explore Tibet, a Lhasa-based travel agency, has some guidelines for preparing for and dealing with AMS.

Know the symptoms of AMS. They include headache, dizziness, nausea, vomiting, palpitations, shortness of breath, lack of strength and appetite, sleeping problems, nosebleed, peripheral edema (swelling in legs and ankles) and oliguria (dehydration and kidney problems). Although rare, if left unchecked AMS can progress to potentially life-threatening pulmonary or cerebral edema. In addition to AMS, dehydration occurs more quickly at higher altitudes, exacerbating the affects of altitude sickness.
Take it easy. AMS is easy to treat and prevent. Most people will experience only a headache or feel "fluish" their first few days at higher elevation. Visitors are advised to rest, drink plenty of water, remember to take deep breaths and refrain from strenuous activity. If these simpler treatments are not enough to alleviate AMS, hospitals and clinics in Lhasa are equipped with oxygen and other first-aid remedies.
Trek safely. When climbing to higher altitudes, for example when trekking, visitors should make sure to keep their schedules slow, giving their bodies enough time to acclimatize. If symptoms of AMS become debilitating, it is important to quickly descend to a lower elevation.
Travel with a responsible team. Guides should know the symptoms of AMS and be able to respond immediately. Tour vehicles outside of Lhasa should carry supplemental oxygen. All Tibet tours should be paced to provide time for acclimatization.
Know the risks. Visitors with a severe cold, a high fever, acute or chronic pulmonary disease, severe cardiovascular disease, pregnant women in their third trimester, and children under three should avoid traveling to regions with a high altitude.