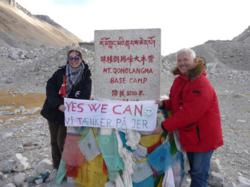 Trekking through Kharta Valley till Everest Base Camp is accessible.
(PRWEB) February 01, 2013
Tibet travel expert, a Lhasa-based Tibet travel agency that focuses on responsible tourism, now offers one new Tibet Khata valley trekking adventure program for 2013.
The valley of Khangsung is a place to allure the trekkers with its grassland and an enchanting bosom of flowers. The trek to Kharta in summer provides an outstanding view of greenery. The Khangsung Valley trek is lead through the Langma La Pass at an altitude of 5320m-the highest pass on the way. The high elevation of all peaks on the way in its full capturing motion is only and alone the Mt. Makalu.
To explore this trek, tourists can take overland trip to Nyalam from the border of Nepal and Tibet. The next day they can drive to Kharta. And the real trek begins from here. Tourists begin the trek from Kharta in a way like the one a white crane looks at the time to pounce upon its prey. After an interval of our driving, traveler can extend the trek to Lundrubling and the Kaamo Tsangpo Valley through Shao La. Further travelers lead the way to Khangsung Valley the next day and Pethang Ringmo. The trekking comprises Hoppo, Kangshung base camp and then the base of Langma La. After all, they can return to their destination Lundrubling through Langma. The next day of the trek is to Kharta and finally to Rongbuk Everest Base Camp.
Here below is the day to day arrangement for the Khata Valley trekking:
Day 01: Kodari, Nepal to Zhangmu-Nyalam [3780m]
Day 02: Rest day for acclimatization at Nyalam
Day 03: Drive onward to Village of Kharta
Day 04: Rest at Kharta Village
Day 05: Trek to Lundrubling
Day 06: Trek to Kaamo Tsangpo valley via Shao La [4970 m]
Day 07: Trek to Khangsung valley
Day 08: Trek to Pethang Ringmo
Day 09: Trek to Hoppo
Day 10: Trek to Kangshung base camp & return to Hoppo
Day 11: Trek to Base of Langma La[5330M]
Day 12: Trek to Lundrubling via Langma La
Day 13: Trek to Kharta
Day 14: Drive onward to Rongbuk Monastery
Day 15: Explore Everest base camp & drive to Shigatse [3900m]
Day 16: Visit Shigatse and drive to Gyantse [3950m]
Day 17: Sightseeing in Gyantse & drive to Lhasa [3600 m] via Lake Yamdrok Tso
Day 18: Guided Sightseeing in Lhasa: Potala, Jokhang Temple and Barkhor Bazaar
Day 19: Sightseeing in Lhasa: Drepung and Sera Monastery
Day 20: Fly back to Kathmandu or to China
Tibet Travel Expert, one online platform of Tibet Ctrip Travel Service which is a Lhasa Local travel agency, specializes in quality and one-stop Tibet travel services with affordable and reasonable prices.