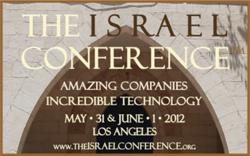 Israel is the fastest growing tech community in the world and it's clear by our Tier-one attendee list that they recognize the power and potential of this community
Los Angeles, CA (PRWEB) May 22, 2012
Dozens of the world's hottest brands will present their success stories to more than 700 entrepreneurs, investors, and executives at The Israel Conference, scheduled for May 31 + June 1 in Los Angeles. Top executives from Microsoft, Oracle, Cisco, Yahoo!, Blizzard, Verizon, SodaStream, Pepsico as well as Sequoia and Gemini Israel Funds and so many others will highlight this two-day business expo, designed to showcase Israeli innovation, the critical importance of US partnerships and investment in Israel, and the secrets to their successes across a broad range of industries.
"Israel is the fastest growing tech community in the world and it's clear by our Tier-one attendee list that they recognize the power and potential of this community," said Sharona Justman, co-chair of The Israel Conference. "Innovation is alive and well, and kicking up a storm in Israel in key industries including gaming, mobile, advertising, film and TV, e-commerce, consumer products, and investment partnerships, and the billions of dollars in US investment there proves the real level of interest."
Fourth annual business conference featuring Israel-facing businesses.
For more information or to watch a live webcast of the event, please click here. http://www.theisraelconference.org/
WHAT       The Israel Conference
WHEN       Thursday May 31 + Friday June 1, 2012
                 Thursday, May 31 from 7:30am to 9:00pm and
                 Friday, June 1 from 7:30am to 2:00pm
WHERE     Luxe Hotel • Los Angeles • California
                 11461 Sunset Boulevard / Los Angeles, California 90049
                 310-476-6571 - http://www.LuxeSunset.com
PRESS / MEDIA     Bloggers wanting to cover The Israel Conference™ prior to or needing a press pass to attend should contact:
                 Paula Page – Paula@TheIsraelConference.org 310-445-5388 or 323.696.2388
                 or
                 Alan Weinkrantz – alan@weinkrantz.com - 210-410-3075
SOCIAL TAGS     #TheIsraelConf @TheIsraelConf
WHO        Speakers include over 70 executives:
    •    Yossi Vardi, Chairman, International Technologies, and the "Godfather"
         of Israeli technology, starting or funding more than 40 companies
    •    Young & Rubicam Global CEO David Sable
    •    Microsoft Israel R&D Center, General Manager, Yoram Yaacovi
    •    NICE Systems CEO and President, Americas, Yochai Rozenblat
    •    Rafael Advanced Defense Systems, Manager, Gideon Weiss
    •    Cisco, GM Solutions & Business Incubation, Charles Stucki
    •    Oracle Corporation, SVP Strategic Planning Douglas Kehring
    •    EMC President, Cloud Infrastructure Business, Harel Kodesh
    •    Marvell Semiconductor Senior Director Strategic Alliances &
         New Initiatives Iri Trashanski
    •    Sequoia Capital Partner Randy Ditzler
    •    LivePerson Head of Parter EcoSystem, Ido Hacohen
    •    Duracell Powermat CEO Ran Poliakine
    •    State of Israel, Minister for Economic Affairs, Eli Groner
    •    Milken Institute Israel Center Director Glenn Yago
    •    IGN Entertainment, President, Roy Bahat
    •    Yahoo!, Head of Gaming, Ross Avner
    •    Blizzard Entertainment, Chief of Staff, Itzik Ben-Bassat
    •    GameGround Co-Founder Shaul Olmert
    •    Omek Interactive President Jonathan Epstein
    •    Max Brenner CEO, Sam Borgese
    •    PepsiCo Senior Director for Innovation Karin Rotem-Wildeman
    •    Coffee Bean & Tea Leaf CEO Mel Elias
    •    SodaStream Executive Director Yonah Lloyd
    •    CommuniTake Technologies CEO Ronen Sassoon
    •    Kampyle CEO Ariel Finkelstein
    •    Tipalti President USA, Eran Karoly
    •    Verizon Wireless Partnerships & Innovation Strategy, Jacob Mizrahi
    •    Orange Labs San Francisco CEO Georges Nahon
    •    InfoGin CEO Eran Wyler
    •    TrendIT CEO Erez Weinroth
    •    Appreciate CEO Amir Maor
    •    NowForce CEO Assaf Shafran
    •    TheBox CEO Eli Uzan
    •    William Morris Endeavor Head of TV Rick Rosen
    •    Armoza Formats CEO Avi Armoza
    •    Oasis Media Group CEO David Lonner
    •    Screenz CEO Eldar Rapaport
    •    Object Geometries President Frank Marangell
    •    Legacy Effects Lead Systems Engineer Jason Lopes
    •    SpaceIL Chairman Zohar Levkovitz
    •    SpaceIL CEO Yariv Bash
    •    BriefCam General Manager Americas Amit Gavish
    •    Convertro CEO Jeff Zwelling
    •    DoogmaTec CEO Dan Ostroff
    •    AdExtent CEO Tal Keinan
    •    Tonara App CEO Yair Lavi
    •    Genieo CEO Sol Tzvi
    •    ComfyWare CEO Shai Shahal
    •    Sensegon CEO Omer Efrat
    •    SnapKeys COO Kory Bardash
    •    Drippler CEO Matan Talmi
    •    Mobix Wireless Solutions CEO Itzhak Hemli
    •    AnyClip CEO Oren Nauman
    •    Nularis Energy Solutions CEO Jonathan Fram
    •    Mobile Research Labs CEO Dave Springer
    •    Xtendi Co-Founder Elad Dahabany-Levy
    •    Craze Digital Managing Director Sam Kleinman
    •    State of Israel Consul General in Los Angeles David Siegel
    •    Dorot CEO Americas Tal Tal-Or
    •    iOnRoad CEO Alon Atsmon
    •    Side-Kick CEO Guy Bendov
    •    DVP CEO Rami Guissin
    •    Gumiyo CEO Shuki Lehavi
    •    Trendlines CEO Todd Dollinger
    •    IPSOS Open Thinking Exchange CEO Shelley Zalis
    •    Blumberg Capital Managing Director David Blumberg
    •    Gemini Israel Funds General Partner Daniel Cohen
    •    Pulver.com CEO Jeff Pulver
    •    The Israel Conference™ Co-Founder /
         STEP Strategy Advisors Managing Director Sharona Justman
About The Israel Conference™
The Israel Conference™ brings together inspiring global leaders, company CEOs, prominent investors, and internationally recognized industry executives to discuss the vitality and growth of Israel-facing business through a variety of panels on hot industry topics and trends with world-class speakers and high-quality networking. The Israel Conference™ spotlights companies that are market making and in demand from the high tech, consumer products, entertainment, gaming, advertising, medical, clean tech, and mobile industries. Be in Los Angeles on May 31 + June 1, 2012 and experience the inventiveness and innovation that is the Israeli business market. For the conference agenda, media, and more information about The Israel Conference™, visit our website http://www.TheIsraelConference.org
Watch why business executives are attending The Israel Conference™ http://www.youtube.com/watch?v=q783m1F4nno