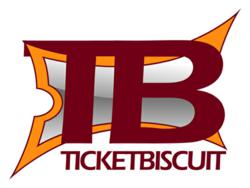 This year, we celebrate our tenth anniversary as a company, with ten consecutive years of growth and profitability. Much of that is due to the fertile environment and support that the Birmingham business community offers
Birmingham, AL (PRWEB) May 24, 2011
In an awards ceremony hosted by the Birmingham Business Alliance last week, TicketBiscuit was recognized as the technology business of the year. The awards gala was the highlight of a week of activities in Birmingham promoting small businesses in the region.
"Recognition is a big part of Small Business week," said Richard Wallace, chairman of the Birmingham Business Alliance Small Business Council. "So many people aren't aware of the economic impact small businesses have on the region." Over 60 small businesses in the Birmingham region were nominated for awards in six categories, including Business Services, Emerging Business, Family-Owned Business, Non-profit, Retail, and Technology.
Nominees were evaluated based on a series of criteria, including advances in technology, technical excellence, financial success, economic growth, and community involvement, among others. A panel of judges from the Birmingham business community selected the winners.
TicketBiscuit Chief Marketing Officer Eric Housh accepted the award on behalf of the company. "This is such an honor for us," he said. "This year, we celebrate our tenth anniversary as a company, with ten consecutive years of growth and profitability. Much of that is due to the fertile environment and support that the Birmingham business community offers."
About TicketBiscuit: TicketBiscuit, founded in 2001, provides proprietary software that powers the online ticket sales of over 500 clients in 1500 venues across the United States and Canada. TicketBiscuit's complete suite of services and solutions empowers clients to sell tickets online through their own websites and social media properties, via call center, and via the TicketBiscuit web-based box office interface. For more information on TicketBiscuit, please visit http://www.ticketbiscuit.com .
About the Birmingham Business Alliance: The Birmingham Business Alliance is a dynamic advocate, unifying voice and constant catalyst for economic development and business prosperity for the Birmingham Region. For more information, please visit http://www.birminghambusinessalliance.com.
###