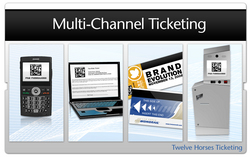 We are really excited to work with such a great organization that also happens to be right in our backyard
Reno, Nevada (PRWEB) January 7, 2009
The Legends at Sparks Marina Reno-Tahoe Open, an official PGA TOUR event, today announced that it has entered into a long-term partnership with Twelve Horses, an integrated online marketing and messaging company, to provide digital ticketing technology for northern Nevada's premier annual golf tournament.
"Our golf tournament delivers a significant economic impact for our region and it was crucial that we align ourselves with a ticketing provider that provides us with complete revenue and ticket management control," said Michael Stearns, Legends Reno-Tahoe Open tournament director. "Twelve Horses not only offers the most complete ticketing solution possible, but it also has a proven track record of providing superior integrated technology and sophisticated online marketing services."
The Legends Reno-Tahoe Open selected Twelve Horses as its online marketing partner because of its local ties and experience in the ticketing process and database management fields.
"We are really excited to work with such a great organization that also happens to be right in our backyard," said TJ Crawford, director of product development for Twelve Horses. "Right out of the gate we are able to deliver the Legends Reno-Tahoe Open more features that cut their ticketing costs by 60 percent."
Now celebrating its 11th year on the PGA TOUR, the Legends Reno-Tahoe Open has supported charitable endeavors throughout the Reno-Tahoe community as well as those of the PGA TOUR. Since 1999, the tournament has donated $1.8 million to charity, contributing to the $1 billion total raised nationwide since 1938 on the PGA TOUR. With the flexibility of Twelve Horses' ticketing software, the tournament is now able to create additional unique and valuable affiliate programs, as well as manage charitable works more efficiently to benefit all parties involved.
"The Twelve Horses ticketing system really gives us the flexibility to build a comprehensive and engaging events management system that takes into account the ever-evolving needs of our channel partners and sponsors," added Stearns. "When we create a new promotion we can implement it quickly, while also maintaining complete control over our brand and any affiliate brands. Not until now have we had this much ticketing power."
About Legends at Sparks Marina Reno-Tahoe Open
The 11th annual Legends at Sparks Marina Reno-Tahoe Open, an official PGA TOUR event, takes place Aug. 3 - 9, 2009 at Montrêux Golf & Country Club in Reno, Nev. As the PGA TOUR's only summer West Coast venue, the tournament is a regular full-field stop on the PGA TOUR schedule and is part of the FedExCup series, a points competition for PGA TOUR professionals. The nationally-televised tournament brings in millions of dollars in coverage for the Reno-Tahoe region through its affiliation with The Golf Channel as it follows 132 PGA TOUR professionals competing for a share of the tournament's $3 million purse. The Legends Reno-Tahoe Open is operated and managed by the Reno-Tahoe Open Foundation comprised of its members including RED Development's The Legends at Sparks Marina, Eldorado Hotel Casino, EMPLOYERS, Montrêux Development Group, NV Energy, and Reno-Tahoe, America's Adventure Place.
For more information on the 11th annual Legends at Sparks Marina Reno-Tahoe Open, including ticket sales, volunteer and sponsorship opportunities, visit http://www.LegendsRenoTahoeOpen.com or contact the tournament office at 775-322-3900.
About Twelve Horses
Twelve Horses is a global provider of Web site design and development, multi-channel marketing, business process automation, customer relationship management (CRM), search engine optimization and search engine marketing. Operating as a full-service marketing agency, Twelve Horses assists businesses in translating and transforming their brands online.
MessageMaker™ is one of Twelve Horses core marketing and messaging products. MessageMaker™ is a single platform for e-mail, fax, voice, Web and mobile text/SMS marketing. Customers use MessageMaker as a hosted on-demand application to integrate and automate individualized cross-channel dialogues and rules-based marketing dialog that enhances the brand's marketing effectiveness, increases customer conversion rates, decreases acquisition costs, presents/resolves payments and extends the lifetime value relationships.
Twelve Horses operates in Atlanta, Las Vegas, Salt Lake City, Reno-Tahoe, Nev. and Tampa, Fla.
For more information visit http://www.twelvehorses.com or call 1-866-846-2846.
# # #