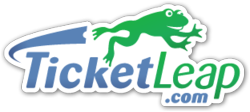 Philadelphia, PA (PRWEB) October 25, 2011
TicketLeap announced today the launch of its highly anticipated ticket-scanning app for the iPhone platform, available immediately and for free in the Apple App Store. The new application further extends the reach of TicketLeap's mobile ticketing platform and provides event organizers yet another way to reduce costs and better manage their event with TicketLeap.
Previously only available on Android devices, TicketLeap's iPhone ticket-scanning app makes it even easier for event organizers to manage their entire onsite event operation – from ticket sales to event access – directly from their smart device. Furthermore, with the addition of TicketLeap's iOS app, event organizers can easily integrate both Apple and Android devices into their event management solution – allowing for even greater customization, flexibility and efficiency.
"Our customers have been eager for us to make the 'leap' to iOS; and we're very proud to deliver. With the launch of our iPhone app, TicketLeap now supports the two leading smart device platforms – which according to a recent Neilson survey, account for 71 percent of all smart devices used in the U.S.," said Chris Stanchank, CEO and Founder, TicketLeap. "This app, combined with the power of our mobile ticketing platform, provides event organizers with enormous versatility for managing the sale of paper and paperless tickets, as well as access control at an event."
A unique feature of TicketLeap's mobile platform is the ability to seamlessly integrate multiple devices - running iOS and/or Android - into the solution. This means an organizer can have staff at multiple locations using a combination of iOS and Android devices to scan tickets with QR codes to ensure each ticket is unique. Whether iOS devices, Android devices, or a combination of the two – they work in concert with one another to effectively manage the entire event. Check out a video of TicketLeap's mobile platform, iOS and Android apps live and in action here: http://video.ticketleap.com/Gna.
Those interested in downloading the TicketLeap ticket-scanning app can search for "ticketleap" in the Apple App Store and Android Market
About TicketLeap.com
TicketLeap is a self-service all-in-one ticketing and events marketing platform that helps event organizers maximize ticket sales, while saving time and money. Using TicketLeap, event organizers can easily customize event pages, sell tickets online and onsite, spread the word using email marketing and social media, track sales in real-time, and manage attendees efficiently - all from one place. To learn more, visit http://www.ticketleap.com, or call 877.849.5327.
###