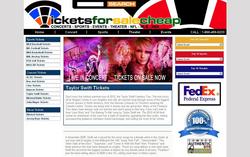 "TicketsForSaleCheap.com looks forward to supplying tickets to Taylor Swift performances for years to come."
Los Angeles, CA (PRWEB) July 7, 2010
TicketsForSaleCheap.com would like to congratulate Taylor Swift on her sold out performances across the country and is happy to be sharing in her success. "Taylor Swift is one of today's most successful artists," says Keith Reed, CEO of TicketsForSaleCheap.com. "She has the biggest album sales of any artist in the digital age, and tickets for her Madison Square Garden show sold out in 59 seconds, which is unbelievable! Needless to say, that makes us very happy!" In fact, the morning tickets for Taylor Swift's Madison Square Garden performance went on sale, Reed couldn't drive his Lamborghini to the office fast enough before the show sold out in fifty-nine seconds. "The entire tour, sixty shows, sold out in minutes," Reed says in amazement.
Swift is so in tune with the pop culture radar, she's a household name on the level of President Obama and Lady Gaga. In fact, Taylor Swift has been listed on Time Magazine's 100 Most Influential people along with Obama and Lady Gaga. It also happens that Lady Gaga and Swift are fans of each other, and President Obama even had Taylor's back during the Kanye West MTV Awards debacle. While Obama and Lady Gaga are almost neck and neck with who has more fans on Facebook, Swift has 5.5 million fans on Facebook, and isn't far away from Twilight's frantic Facebook following.
As Reed continues, "When Taylor Swift signed to Big Machine Records at the age of 16, the label launched a big 'viral' campaign to push her first album. In today's digital age, many thought the music business was over because of illegal downloading, but if you use the Internet correctly, it's a great promotional tool." With the help of the Internet and social networking sites like Facebook, MySpace and Twitter, as well as a lot of traditional TV appearances, Swift has used these many different channels fuel her album sales. It's an approach that had never been done in the country side of the music business, but by the time Big Machine took Swift's album to radio, she had already gained an enormous following and country radio just couldn't afford to ignore her.
As an artist who is still in her teenage years, Swift is in touch with the way millions of teenagers live life today through their hand held devices, and her approach was a perfect way to hit her target audience. As Tickets For Sale Cheap relates, "We discovered that Swift is now the top-selling artist in digital history with 24.3 million digital tracks sold, and her songs have gotten 20 million streams on MySpace alone." She also held a contest sponsored by Verizon Wireless. It was a text messaging contest in which the lucky winners would get a free concert from Swift. The winner was Bishop Ireton High School in Alexandria, Virginia who won by sending in 19,000 text messages to Verizon.
Swift is also willing to go the extra mile with those responsible for her incredible success and recently held a thirteen hour meet and greet for her fans, proving she's not just in touch via the Internet, but will also stay up close and personal. "We're thrilled with Swift's success," Reed concludes. "And TicketsForSaleCheap.com looks forward to supplying tickets to Taylor Swift performances for years to come."
# # #