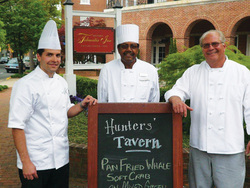 "We are bringing back Eastern Shore traditional fare with a new flair" - John Wilson, New Owner of Tidewater Inn
Easton, MD (PRWEB) April 29, 2010
With the addition of a new Tavern Chef, Hunters' Tavern at the Tidewater Inn in Easton, Maryland is "Bringing back Eastern Shore traditional fare with a new flair", this according to the Tidewater Inns' new owner John Wilson who also owns and operates the popular Chesapeake Bay Beach Club in Stevensville MD. Hunters' Tavern's official launch focuses on its new team of experienced and award-winning Chef's and their inspirational menus for breakfast, lunch, dinner, happy hour and Sunday Brunch.
This exceptional culinary team includes Executive Chef William Koch, Tavern Chef Paul Shiley and Executive Sous Chef Raymond Copper, whose combined experience and love of the Chesapeake Bay has resulted in a menu of mouth-watering dishes soon to be the Tavern's signatures. New items such as Mussels Three Ways offers mussels prepared Cajun, Saffron and Cream, or Bacon and Spinach style. A hearty, "packed-with-Chesapeake-seafood" Fish Stew highlights the dinner menu as well as a return of an old but updated Tidewater Inn favorite, Snapper Soup in Sherry Cream. Traditional Eastern Shore Maryland favorites such as the Crab cake and Fried Oysters, as well as several "turf" dishes are also offered but with a decidedly Hunters' Tavern twist.
All three Chefs are well qualified for the task of bringing new flair to time honored Eastern Shore fare with a collective forty plus years of experience in Chesapeake Bay area cuisine. Executive Chef Will Koch came from the Tremont Grand Hotel in Baltimore, MD and gained his experience in fine dining and catering over the last 14 years, from the Eastern Shore, Virginia Beach, Boston and Washington D.C. In 2008 the National Academy Foundation named Will "The Chef of the Year" for his mentoring of students, service and dedication to the community. Will loves to travel bringing innovative ingredients and ideas back to the Tidewater Inns' kitchens.
Executive Sous Chef Raymond Copper is legend at the Inn and an anchor to the new team. He joined the culinary staff of The Tidewater Inn in 1963 as a line cook. Thankfully, he has never left. Having a strong desire to blend local ingredients with classical cooking, Raymond apprenticed under a long line of accomplished Chef's honing his craft through the years. He is a traditionalist who loves creating with the rich harvests of the Chesapeake.
The teams' newest member, Tavern Chef Paul Shiley, worked at Miller Brothers Restaurant within the original Hilton Hotel in downtown Baltimore and the next twenty years after that in Hotels, Country Clubs and Restaurants in Baltimore and Annapolis. Paul moved to the Eastern Shore in 1990 and infused his Baltimore style food to the Eastern Shore's Narrows Restaurant for the next 18 years. Paul arrives now eager spearhead the mission of Hunters' Tavern and to incorporate his talents into the Wedding / Special Events catering at both the Tidewater Inn and the Chesapeake Bay Beach Club.
Hunters' Tavern is located in The Tidewater Inn, replacing what was once Restaurant Local. Recently remodeled, the Tavern provides the ambiance of an upscale country lodge, with comfortable, casual elegance where coffered ceilings, rich, dark woods, and an outdoor terrace with a glowing brick fireplace create the perfect backdrop and compliment the new cuisine. "NOW, this is local", says Chef Paul Shiley.
In addition to Hunters' Tavern, the new ownership by the creator of The Chesapeake Bay Beach Club brings both the Club's culinary and management expertise on wedding / special event execution to the Tidewater Inn. Owner John Wilson states, "We are all about celebrations. The marriage between the Chesapeake Bay Beach Club and the Tidewater Inn has been a perfect match. With the Tidewaters' Tavern finally open and Gold Ballroom debuting in late May in addition to our other event spaces, we are the place to celebrate".
Hunter's Tavern invites one and all to experience their new cuisine creations at their Mother's Day Brunch, on Sunday May 9, 2010, from 10am to 2pm. The Tavern serves Breakfast 7:00am - 10:00am, Lunch 11:30am - 2:00pm, and Dinner 5:00pm - 9:00pm daily. A scrumptious bar menu is available during Happy Hour from 4:00pm - 6:00pm with specials on drinks and food resulting from an hourly spin of the Tavern's bar side roulette wheel. Sunday brunch is served between the hours of 10am - 2pm, and fireside outdoor seating is available for cocktails, lite fare and special events.
For Mother's Day Brunch reservations contact Bill Redmond, Restaurant Manager 410-822-1300, X401. Hunters' Tavern reservations are not required although parties of six or more are encouraged to call ahead.
For more information contact David Arena, General Manager at 410-822-1300, X144, http://www.tidewaterinn.com
###