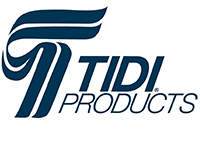 To assist occupational health professionals in gaining greater healthcare worker compliance, performance, and protection, TIDI Products offers a wide array of infection-prevention products
Neenah, WI (PRWEB) September 06, 2016
TIDI Products, LLC, a leading manufacturer of clinically differentiated, single-use, infection-prevention products, today cited the unique value of upcoming educational and clinical tracks at the annual meeting of the Association of Occupational Health Professionals in Healthcare (AOHP) in Myrtle Beach, SC.
AOHP is the sole, national, professional organization committed to addressing the occupational health and safety of healthcare professionals in healthcare settings. Approximately 1,000 occupational health nurses, nurse practitioners, physicians, and physician assistants belong to AOHP. The annual conference is a venue for learning, sharing, and exchanging best practices. This year's event commemorates the 35th anniversary of the organization.
The 2016 annual gathering, occurring September 7-10, 2016, will feature a series of keynote and session presentations designed to raise the effectiveness of occupational health professionals, including in reducing occupational infection risk. Offerings range from teachings on the basics of roles in occupational health, reviews of pertinent regulatory standards, improvements in staff administration techniques, as well as advanced approaches to infection control, safe patient handling, and incident reporting. Many of the sessions include continuing education (CE) credit opportunities.
At least five AOHP 2016 podium presentations concern blood and body fluid (BBF) exposure risk. Friday, September 9th, at 2:35pm, Victor R. Lange, MSPH, will present a one-hour advanced session, "Interdepartmental Collaboration to Reduce Conjunctiva Exposure Risk: Process Improvement to Increase Awareness and Enhance Compliance," in which he will review BBF conjunctiva exposure risk and a program implemented to help reduce that risk. CE credit is available.
To assist occupational health professionals in gaining greater healthcare worker compliance, performance, and protection, TIDI Products offers a wide array of infection-prevention products that include patented Sterile-Z™ back-table covers and patient drapes, C-Armor® equipment drapes, and TIDIShield® Grab 'n Go™ Eye Shields in a convenient, point-of-use dispenser. By placing single-use TIDIShield Grab 'n Go Eye Shields wherever gloves or masks are available, occupational health and safety staff can help reduce infection transmission risk via conjunctiva. AOHP 2016 attendees may request information on TIDI Product offerings by visiting http://www.TIDIProducts.com.
About TIDI Products, LLC
TIDI Products, LLC is a leading global manufacturer of innovative, single-use, infection-prevention products and unique, safety-improving interventional equipment. TIDI is committed to supporting caregivers and preventing infections in hospitals, clinics, dental offices, and other healthcare environments. The TIDI Product portfolio ranges from exam table paper, patient capes and gowns, dental bibs, curing light sleeves, intra-oral camera covers, and sterile C-Arm drapes; to protective eyewear, gowns, masks and gloves for staff; to securement products for catheters and other devices. For more information, please visit http://www.TIDIProducts.com or follow us on Facebook, Twitter, LinkedIn, and YouTube.
CFI Medical, manufacturer of the Sterile-Z and C-Armor product lines, is now part of TIDI Products.