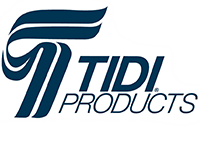 TIDI Products' offerings are uniquely designed to help define and protect the sterile field, and to help reduce and prevent infection risk to surgical staff and patients
Neenah, WI (PRWEB) September 21, 2016
TIDI Products, LLC, a leading manufacturer of clinically differentiated, single-use, infection-prevention products, today announced its participation in the upcoming 2016 OR Manager Conference, taking place September 21-23, 2016, at the Caesars Palace Convention Center, in Las Vegas, Nevada.
The annual OR Manager Conference, presented by OR Manager, gathers together operating room, perioperative, and other surgical-suite managers, directors, and administrators. Attendees learn, share, and network around best practices and advanced solutions in an effort to enhance efficiency and safety in healthcare operating environments. In addition to lectures, workshops, poster presentations, and breakout sessions, OR Manager Conference attendees can learn from first-hand experience and one-on-one interactions with peers and product manufacturers.
TIDI Products' offerings are uniquely designed to help define and protect the sterile field, and to help reduce and prevent infection risk to surgical staff and patients. To assist OR professionals in gaining greater compliance, performance, and protection, TIDI Products will showcase a wide array of its infection-prevention solution portfolio at the 2016 OR Manager Conference. Among others, TIDI Products will feature its patented Sterile-Z™ back-table covers and patient drapes, C-Armor® equipment drapes, and TIDIShield® Grab 'n Go™ Eye Shields in a convenient, point-of-use dispenser.
OR Manager Conference attendees may learn more about the TIDI Products portfolio and participate in valuable discussions and demonstrations by visiting TIDI Products in the Caesars Palace Convention Hall Forum Ballroom, Booth #1246. Additional information about TIDI Products also is available online at http://www.TIDIProducts.com.
About TIDI Products, LLC
TIDI Products, LLC is a leading global manufacturer of innovative, single-use, infection-prevention products and unique, safety-improving interventional equipment. TIDI is committed to supporting caregivers and preventing infections in hospitals, clinics, dental offices, and other healthcare environments. The TIDI Product portfolio ranges from exam table paper, patient capes and gowns, dental bibs, curing light sleeves, intra-oral camera covers, and sterile C-Arm drapes; to protective eyewear, gowns, masks and gloves for staff; to securement products for catheters and other devices. For more information, please visit http://www.TIDIProducts.com or follow us on Facebook, Twitter, LinkedIn, and YouTube.
CFI Medical, manufacturer of the Zero-Gravity product line, is now part of TIDI Products.