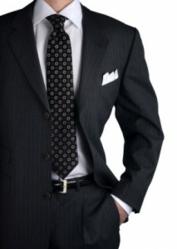 The new blog is a place tie aficionados can turn when they want to know what's the best way to care for silk neckties, remove stains or keep ties from getting frayed
San Francisco, CA (PRWEB) October 29, 2011
It's in the way a man puts his hands in his trouser pockets, the way he holds a cigar, the way he puts his arm around a woman's waist and the way he drinks a glass of whiskey. Some men have it in spades, while others are missing it all together. It's not easily defined. It's class. It's also in how a man ties his tie. And, while class usually can't be taught, a new blog aims to help American men cultivate it a little bit at a time. Tie-a-tie.net, the world's most popular necktie knot tutorial site, has launched a new tie aficionado's blog at to teach modern men everything they need to know about how to make an impression.
A soup-to-nuts guide discussing everything from fashion trends to etiquette to dress codes, the Tie-a-tie.net blog helps over 10,000 visitors a day learn useful tidbits of information, such as how to tie a Half Windsor tie knot or make dimples in one's necktie. The blog is regularly updated with posts on a wide range of topics like advice on what to wear to a warm weather black tie occasion, a guide to dress shirt collars, necktie storage tips and how to wear tie bars. In addition, the site offers tips on other finishing-touch flourishes, like how to properly fold a pocket square.
Not every man has a natural air of gravitas about him. The Tie-a-tie.net blog aims to help the average guy become a man who turns every head when he walks into a room (as opposed to making everybody want to leave the room). For men who want to dazzle women with their elegance, instead of frighten them with their frumpiness, Tie-a-tie.net is a must-read blog that will aid in achieving a polished, formal look.
"The new blog is a place tie aficionados can turn when they want to know what's the best way to care for silk neckties, remove stains or keep ties from getting frayed," said Tie-a-tie.net founder Hendrik Pohl. "It's also an informative website for beginner tie collectors who simply want to know how to tie a Kent knot."
Attracting over four million visitors each year, Tie-a-tie.net has already taught some 50 million how to tie a tie.
###