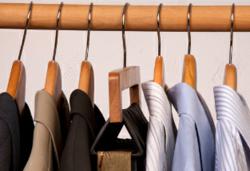 Shipping is free for all residents within the United States.
Portland, OR (PRWEB) December 17, 2012
The Original Necktie Butler is now announcing The Walnut Dandy tie rack in their product inventory.
The Original Necktie Butler is an American company born in the Pacific Northwest. The company has a website that has been selling tie racks for over three years online.
The Walnut Dandy is a darker wood variation of The Natural Original, which is the lighter wood tie rack option available for customers to purchase. It costs $31.99 to purchase The Walnut Dandy- that's $2 more than The Natural Original which comes in at $29.99.
Shipping is free for all residents within the United States.
View the products by clicking here.
In the last two years the company has sold nearly 1,000 of the tie racks online and has received copious amounts of positive feedback.
One customer wrote, "After years of wearing neck ties, I have always been plagued with waking up to the sight of my expensive ties on the floor. I have owned all sorts of neck tie racks and organizers and no tie rack has held a candle to the Necktie Butler. My ties never fall, this tie rack is durable, and now 30 of my ties take up as much space as one hanging shirt in my closet. I would recommend the Necktie Butler to anyone who is tired of seeing their tie collection lying on the floor or crumpled in a ball every morning. I definitely know where I'm doing my office Christmas shopping this year!"
Testimonials like this dot the page on their site dedicated to tie rack reviews.
The Original Necktie Butler site also dawns a Frequently Asked Questions page. On this page the company discusses the following things:

the self-leveling feature of the tie racks
where The Necktie Butler is sold
how many ties the product holds
where the product is assembled
and its durability.
The company's site also has a page for those interested in the history of the modern necktie rack. It talks about neckwear throughout history and how people have stored that neck wear.
Purchasing on The Necktie Butler website is secured through GoDaddy. PayPal, Visa, MasterCard, and American Express are all accepted forms of payment.