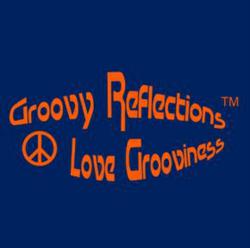 Orange, CA (PRWEB) May 06, 2013
Groovy Reflections™ expands their celebration of 1960's and 1970's music and pop culture by launching a harmonious internet and smart phone radio station that sings a nostalgic tune and runs 24/7. The dedicated website for this new endeavor is http://www.groovyreflectionsradio.com and can also be accessed via their main website, http://www.groovyreflections.com.
Programming includes a mix of popular songs plus tunes that listeners may not have heard in a long time. Genres include Rock, Pop, Folk, R&B, Country, Garage, and Reggae as well as TV themes and familiar commercial jingles. Broadcasting is via a dedicated private server at 128 kbps and initially accessible on the Groovy Reflections websites as well as streaming via smartphone and other media devices by searching Shoutcast Radio for "Groovy Reflections Radio" through free media players like Winamp.
"It is a natural step for us" says Gerry Wendel, Owner and Founder of Groovy Reflections, a division of R.I.M. LLC. "We intend to introduce our listeners to many 'new-old' tunes that never had the chance to be heard on commercial radio back in the day and combine that with popular favorites, commercial jingles and themes from TV and movies that will most certainly strike a chord."
"In addition", Ms. Wendel continued, "we have several original radio programs in development. The first out of the gate will be My Front Porch which will focus on 1960's folk music. We expect to launch that show mid-April, and will roll out several programs, including The Lava Lamp Hour and a countdown show later in the year."
Groovy Reflections is also pleased to announce their very first radio station sponsor, Original Retro Brand http://www.originalretrobrand.com who specialize in clothing with pop culture, sports, and rock 'n roll imagery. This is not the first time the two brands have come together; they recently teamed up for a clothing giveaway on the Groovy Reflections Facebook page and are looking forward to strengthening their partnership.
In addition to the launch of the radio station, Groovy Reflections™ currently sells hand tie-dye t-shirts on their website http://www.groovyreflections.com that sport their logo. The company seeks to partner with independent businesses who are interested in offering Groovy Reflections branded products or having their name heard on the airwaves. The brand, though aimed primarily at boomers, welcomes everyone with a passion for all that Groovy Reflections celebrates.
Groovy Reflections was launched by Gerry Wendel in 2009 as a blog and later became a division of Reflections in Modland (R.I.M. LLC). The Groovy Reflections brand's main website is http://www.groovyreflections.com and has a strong presence on Facebook at http://www.facebook.com/groovyreflections and can also be found on Twitter at http://www.twitter.com/groovyreflctns . In addition, under the R.I.M. LLC umbrella, Ms. Wendel operates ModlandUSA™ a marketing consultancy that assists small businesses with strategic planning and market research.