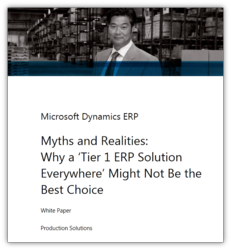 Vancouver, BC (PRWEB) July 06, 2012
Candlewest has released a white paper from Microsoft outlining the significant challenges that come with implementing the same enterprise software at every location.
This white paper is designed for those in need of determining whether they should be deploying company wide enterprise solutions.
The white paper reviews the true costs and true benefits associated with an all-the-same enterprise ERP compared to enterprise ERP at headquarters with other choices at individual locations, or business segments.
The white paper examines common assumptions or myths surrounding all-the-same versus mixed environments. Myths examined are:

Hub and Spoke systems are (and should be) tightly integrated
What corporate decides is 'best' for the company should be 'best' for each subsidiary
The only good implementation is a fast, full implementation
Integration is difficult and is most easily done between homogenous systems
Standardization yields the best overall cost (economics of scale)
Corporate 'SWAT' team approach can overcome inherent implementation difficulties
One bigger single business application is better
Individuals can download their own copy of Myths and Realities on the Candlewest website.
# # #
Candlewest has built a reputation for success over the past two decades by providing industry leading business solutions to their clients including Microsoft Dynamics GP and Microsoft Dynamics NAV.