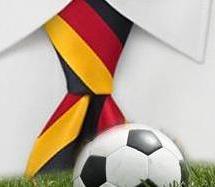 It's only natural that I should want to combine two of my passions — men's fashion and football. The ties are a more sophisticated, elegant way for fans to express their club pride. But we still recommend getting your face painted too.
San Francisco, CA (PRWEB) October 19, 2011
Americans call it soccer and Europeans call it football, but most people just call it a way of life. Football fever is already building around the globe as Europe prepares for the qualifying play-offs of the 2012 UEFA European Football Championship, beginning on November 12, 2011. Millions of football fans around the world will head to their favorite sports bars or tune in on television to watch every moment of championship action. To celebrate the most popular sport in the world, online retailer Ties-Necktie.com is offering football fans a unique way to show their club pride: ties to match each European country's flag and club colors.
Football watchers, forever eager to find creative new ways to express their fandom, have a huge selection of specially made merchandise to choose from at Ties-Necktie.com. Germans can support mother Deutschland with a black, red, and gold striped tie – or Krawatte – as this fashion accessory is called in Germany. Spaniards who want to express their "Furia Roja" can do it with one of the website's many radiant red ties, or even a special Spanish necktie that combines red and yellow stripes to resemble the Spanish flag. Admirers of Portuguese superstar Cristiano Ronaldo may show their allegiance with a tie in the classic Portuguese colors green and red. For the Dutch fans Ties-Necktie offers a bright orange tie that is perfect for the Oranje spirit of the Netherlands. Frenchmen who have "Les Bleus" will have no problem finding a cravat in the country's stripes in blue, white, and red, while Ireland's fervent fans can cheer on "The Boys In Green" in one of any number of brilliant shamrock green ties.
Besides striped ties that match a country's colors, there are also embroidered neckties. The Swiss tie for instance is bright red with a white cross embroidered at the tip. Similar is the red tie for Turkey that has a white crescent moon embroidered throughout.
"I grew up in Germany and football is a very big deal where I come from," explained Ties-Necktie founder Hendrik Pohl. "It's only natural that I should want to combine two of my passions — men's fashion and football. The ties are a more sophisticated, elegant way for fans to express their club pride. But we still recommend getting your face painted too."
The UEFA European Football Championships take place once every four years, making the series one of the most anticipated sporting events of 2012. The Finals take place in Poland and the Ukraine from June 8th – July 1st, 2012. The entire collection can be found at Fan Ties for EURO 2012
###