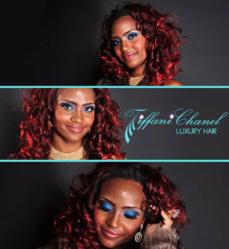 Until a Cure is Found
Houston, Texas (PRWEB) October 20, 2011
Tiffani Chanel Luxury Hair announces its Breast Cancer Awareness campaign.
According to the Centers for Disease Control, "Aside from non-melanoma skin cancer, breast cancer is the most common form of cancer in women. Breast cancer is the number one cause of cancer death in Hispanic women, [the] second most common cause of cancer death in white, black, Asian/Pacific Islander, and American Indian/Alaska Native women."
The boutique carries several unique awareness products, including Flydanna's and pink human hair clip-in hair extensions, and, in addition to free shipping, all awareness products are available at deeply discounted prices.
About the Company
Tiffani Chanel Luxury Hair is a privately held company based in Spring, Texas. The company is committed to providing women of all types a resource for top quality hair extensions and wigs that every woman can afford.
Owner, Tiffani Speller entered the retail hair industry in 2009 exclusively as a lace wig boutique. Due to high demand, the product offerings were expanded and Tiffani Chanel Luxury Hair was born.
"This disease touches the lives of many of our clients. For this reason, breast cancer awareness products will be available year round- not just in October. 5% of the proceeds from our sales on awareness products are donated to various breast cancer awareness organizations in the name of Tiffani Chanel Luxury Hair. We will continue our year-round campaign until a cure is found." she said.
Contact
Customer Service
Tiffani Chanel Luxury Hair
888-727-1992
info(at)tiffanichanel(dot)com
###