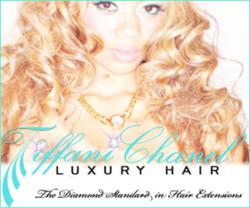 The Diamond Standard in Hair Extensions
Houston, TX (PRWEB) October 11, 2011
Proudly announcing the launch of Tiffani Chanel Luxury Hair, a luxurious online hair boutique.
The internet-based storefront offers the finest quality wigs, hair wefts, clip on hair, fusion hair, microlinks, eyelashes, eyebrows, and various other hairpieces. Never mixed with synthetic material, the human hair offered is truly "The Diamond Standard" in hair extensions.
The reasonably-priced Premium Virgin Hair collection includes Indian Remy, Brazilian Remy, Chinese Remy and Malaysian Remy hair in bulk, wefts, wigs and hairpieces. Best of all, customers have the ability to have custom hairpieces designed to their specification; often at the same price as in-stock units.
In addition to servicing the end-user customer, the boutique has rewards programs for stylists and college students.
About the Company
Tiffani Chanel Luxury Hair is a privately owned company based out of Spring, Texas. The company is committed to providing women of all types a resource for top quality hair extensions and wigs that every woman can afford.
Owner, Tiffani Speller entered the retail hair industry in 2009 exclusively as a lace wig boutique. Due to high demand, the product offerings were expanded and Tiffani Chanel Luxury Hair was born.
"Over the last two years, we have integrated design, research, the voice of our customers, manufacturing and sales together to produce top quality products and provide excellent customer service. Our-user friendly website provides a safe and easy way for our customers to shop. Today, because of those standards, the clients of Tiffani Chanel Luxury Hair are from across the globe and from all walks of life," she said.
###