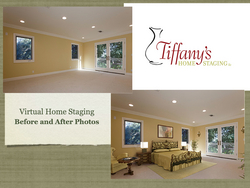 "What's most important to me is generating more attention to the sellers home for faster and more profitable sales..."
Madison, WI (PRWEB) February 4, 2010
Home staging for online viewing is here to stay. Many potential home buyers first see a home for sale online and through photos posted to the MLS listings. The majority of Realtors turn to accredited Home Stagers to create an attractive environment that can be enhanced with virtual home staging technology and marketed through an online home tour. Buyers are internet savvy and according to a 2009 NAR profile 94% of all potential home buyers use the internet to preview homes based on initial internet searches. That means that individuals from all over the USA may also be viewing personal property online as potential buyers decide whether to schedule a personal showing. View Tiffany's Home Staging Virtual Home Staging examples.
Tiffany Esser, owner of Tiffany's Home Staging, LLC, based in Madison, Wisconsin, is a leader in Home Staging, offering choices in preparation for the home selling process. From the very beginning of the selling process, Tiffany works directly with Realtors, Home Sellers, and For Sale by Owners Listings, to enhance the salability of property while addressing personal needs and concerns. Online home staging consultation services, together with a fast turnaround, is an important part of her business. Today Tiffany's Home Staging optimizes the choices for staging a home, by announcing Virtual Home Staging. This computer generated conceptual approach to home staging allows for choice in color palette and style to furnish and decorate vacant homes, all online, and all without the need to expose personal property, or to rent, or purchase furniture and accessories. This allows home sellers to maximize the selling potential of their vacant property and has the advantage of being "green", saves time, energy and potential damage to a property. Better yet, virtual home staging technology can be utilized by anyone selling their home from anywhere in the country.
Tiffany's Home Staging, Accredited Staging Professional, Real Estate Staging Association member and highly specialized professional, offers trusted home staging advice online through home staging consultation services for home owners attempting to sell their house. These services advance the sale of owner occupied homes and businesses in Southern Wisconsin, and vacant homes from anywhere in the US. Her education as an interior designer with 20 years of experience utilizing knowledge of color theory and "Stage to Sell" space planning, along with training in virtual home staging techniques and experience as a design educator, makes Tiffany's Home Staging LLC uniquely qualified to offer the best possible home staging services. "Staging a home is not about decorating. In fact, what a seller thinks would have a positive affect on buyers may actually do the opposite, and this requires some seller education on my part to strive for over a 500% return on investment, which was the average according to a 2009 survey of Realtors conducted by HomeGain" Tiffany Esser says. She adds, "What's most important to me is generating more attention to the seller's home for faster and more profitable sales, while following the industry standards of being ethical and professional. "That is why I attended the Real Estate Staging Association International Staging Conference (RESA™ the member run Trade Organization for Professional Stagers), and am a member of many related organizations." "I love what I do and am dedicated to helping sell a home or business, and serving the real estate market."
Tiffany's passion for home staging is apparent, and her professionalism and knowledge has a proven track record.
About Tiffany's Home Staging LLC: Tiffany Esser is the owner of Tiffany's Home Staging LLC, serving Realtors and home owners in the greater Madison, Wisconsin area and now offering nationwide services. Tiffany is a graduate of The American College for Applied Arts in Atlanta, Georgia, having studied interior design in London, then working in the architectural and commercial industry until becoming a Design Educator at Madison College.
Tiffany, along with her family, enjoys a variety of hobbies including traveling, dance, sports and movies. Tiffany remarks fondly that her entire family enjoys the progress and public awareness the home staging industry has had, and her children often ask, "When are you going to have your own Home Staging show?"
Contact Tiffany Esser online at tiffanyshomestaging.com for more information and to see the dramatic results that virtual home staging can offer.
Email: tiffany (at) tiffanyshomestaging (dot) com
Phone: 608-438-5660
###