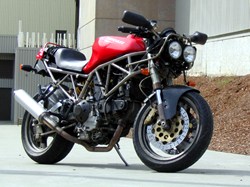 Tiger.co.uk has reported a surge in motorbike quotes in March.
(PRWEB UK) 12 April 2012
The popular motor insurance comparison site has announced that quotes for motorbike insurance were 40% higher in March than they were in February.
This is in line with industry figures showing that March and April are particularly busy months for sales of bike insurance as many riders around the UK start to prepare for the Bank Holidays and fairer weather.
Of course, along with more people getting out on the road comes the increased possibility of breakdowns and accidents. Motorcycle riders, who like to be out and about on their bikes during busy periods such as the Easter Bank Holiday, should be vigilant when riding and make sure they run a few simple checks before going for a spin.
Tiger.co.uk has offered a few simple tips to motorcyclists seeking to make the most of the fairer weather conditions in its weekly blog post, including a warning to riders to make sure they wear the appropriate safety clothing irrespective of the weather conditions.
Andrew Goulborn, Tiger.co.uk's Commercial Director commented:
"It's great to see an increase in the number of motorcycle insurance quotes coming through the site. In our industry, it signifies that spring has started and better weather is around the corner! We now provide quotes from 37 bike insurance brands on the site and as such, should be able to offer a great deal to most bikers. The safety of motorbike riders in the UK is also a big concern for us, particularly as they have a much higher risk of being killed or seriously injured than car drivers. Our hints and tips are not a comprehensive guide but aim to provide general information on how to prepare your bike for the summer season, particularly if it has been stored for some time. We hope this and other updates on the site, such as our guide to motorbike insurance, provide useful information for the biking community."
About http://www.tiger.co.uk
Tiger.co.uk is a trading name of Call Connection Ltd. Tiger.co.uk is a UK based, independent motor insurance comparison site, offering insurance quotes from over 150 motor insurance brands. Call Connection Ltd is authorised and regulated by the Financial Conduct Authority (FCA number 308374).