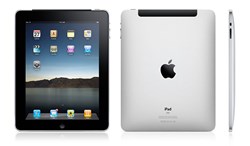 the prize draw to win a new iPad will be one of the first of its kind to launch within the UK
(PRWEB UK) 15 March 2012
The much anticipated arrival of the new iPad is set for Friday the 16th of March and it is rumoured that they will be priced at around £399 -£659. The screen resolution has been improved and the tablet is powered by a fast new A5X chip, rivalling any other tablets on the market. The prize draw to win a new iPad will be one of the first of its kind to launch within the UK.
Set up in 2009, Tiger.co.uk is one of the UK's most highly regarded, independent car insurance comparison sites giving insurance shoppers access to over 140 insurance brands through its user-friendly and unique Easyfill® quote form.
The website launched its Facebook and Twitter pages back in 2010 to provide general information on insurance and motoring to shoppers and to enable interactive FAQ's for drivers with questions about van, bike and car insurance. The prize draw is designed to encourage more people to visit the pages and explore the information on offer.
Andrew Goulborn, Commercial Director at Tiger.co.uk commented: "We are really excited about launching the prize draw. The launch of the new iPad has been eagerly awaited and we are proud to be able to offer our shoppers the chance of winning one. There can only ever be one winner, but hopefully shoppers will benefit from visiting the Facebook page and use it as a point of reference in the future to keep up with developments in the car insurance market, particularly around new product developments and pricing. We are aware that when motorists visit Tiger.co.uk they often want more than just the ability to compare car insurance quotes. There are often other questions that they want answering before they purchase. It's not just car insurance information we can help out with. We are also aware that shoppers are keen to understand things like which cars are most economical to run, where can they find an affordable meal when on the road and lots of other information on how to keep costs down and be a smart motorist.'
About http://www.tiger.co.uk
Tiger.co.uk is a trading name of Call Connection Ltd. Tiger.co.uk is a UK based, independent motor insurance comparison site, offering insurance quotes from over 150 motor insurance brands. Call Connection Ltd is authorised and regulated by the Financial Conduct Authority (FCA number 308374).