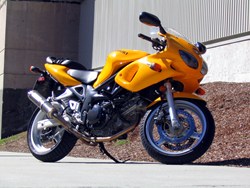 The new licensing laws, set to come into play on January 19th 2013, will add a further stage to this graduation system
(PRWEB UK) 10 September 2012
The motorcycle licence guide will allow new riders to learn the rules governing motorbike licences and more experienced riders to familiarise themselves with the new laws to see how they may be affected.
Statistics show that motorcyclists are considerably more likely to be involved in a serious accident than other motor vehicle drivers. As a result of this the proposed licensing system is far more graduated with several different stages to be passed before a rider can ride any size of bike. This is a way of safeguarding against inexperienced riders riding the most powerful bikes as soon as they have passed their tests. The youngest a rider can currently ride a bike over 125cc is 21 years.
The new licensing laws, set to come into play on January 19th 2013, will add a further stage to this graduation system. This means that if a rider wants to ride the most powerful bikes without two years experience they will now need to be at least 24 years old. The new licensing laws will also make it slightly more difficult to obtain a moped licence.
The Tiger.co.uk Guide to Motorcycle Licences is designed to explain the system of motorcycle licences and covers all types of bike licences including mopeds, provisional motorcycle licences and the light and standard motorcycle licence. It also goes into detail about the new system so that riders are able to prepare themselves for the January 2013 changes.
Andrew Goulborn, Commercial Director at Tiger.co.uk, commented: "The new motorcycle licensing scheme being introduced in January 2013 will hopefully mean that we will see fewer serious motorcycle accidents on Great Britain's roads. While the new laws are a little more complicated than the old ones we are confident that the guide that we have produced will be able to explain the new laws in a comprehensible way. Of course we would encourage all motorcyclists, however experienced, to use Tiger.co.uk to get great motorbike insurance quotes from our extensive specialist panel of insurers".
About http://www.tiger.co.uk:
Tiger.co.uk is a trading name of Call Connection Ltd. Tiger.co.uk is a UK based, independent car insurance comparison site, offering insurance quotes from over 150 motor insurance brands. Call Connection Ltd is authorised and regulated by the Financial Services Authority (number 308374).