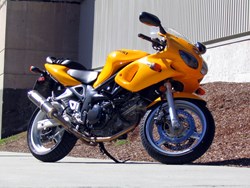 Our insurance panel is growing and now features over 35 bike insurance partners for our shoppers to choose from
(PRWEB UK) 31 January 2013
Tiger.co.uk, known for its car insurance comparison service, is continuing to provide its shoppers with useful motoring guides and has recently published a guide to motorbike maintenance. The site's guides provide users with important information on insurance and motoring related subjects so that motorists are able to make more knowledgeable decisions when motoring and buying motor insurance products.
Tiger.co.uk features one of the most expansive motorbike insurance panels available on comparison sites in the UK, featuring over 35 insurance brands for shoppers to compare. With the biking season approaching the new guide provides tips and hints aimed at regular and less frequent riders on how to keep a motorcycle in good working order. The aim of the guide is to provide bikers with some basic checks that can be performed at home that will enable them to keep their bikes in good working order and to help avoid potentially expensive service and repair costs further down the line.
The guide features simple explanations on which elements of the motorbike need to be checked on a regular basis and how to ensure that these parts are working correctly. It also provides information on how to monitor a bike's tyres, brakes, chain, oil and battery to ensure that riders reduce the chances of a breakdown, the bike runs more efficiently and, of paramount importance, the bike stays safer on the roads.
Andrew Goulborn, Commercial Director of Tiger.co.uk commented: "The addition of a guide to bike maintenance is part of our continued commitment to offer shoppers more than just the ability to compare motorbike insurance quotes on Tiger.co.uk. Our insurance panel is growing and now features over 35 bike insurance partners for our shoppers to choose from. Having listened to shopper feedback we know that this type of additional information will be welcomed. Visitors to the site can access all of this under the "Info" area at the top right of the homepage."
About http://www.tiger.co.uk
Tiger.co.uk is a trading name of Call Connection Ltd. Tiger.co.uk is a UK based, independent motor insurance comparison site, offering insurance quotes from over 150 insurance brands. Call Connection Ltd is authorised and regulated by the Financial Services Authority (number 308374).