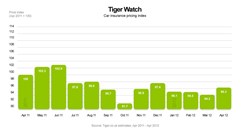 after three months of successive monthly price drops, inflation has returned to the market with an increase of almost 2.2%"
(PRWEB UK) 20 April 2012
Car insurance comparison site Tiger.co.uk today published its monthly Tiger Watch price monitor. The monitor looks at hundreds of policy prices across a range of different driver profiles in order to provide the earliest indication of car insurance pricing trends. The April data shows that, after three months of successive monthly price drops, inflation has returned to the market with an increase of almost 2.2% on prices recorded in March 2012.
Price increases for women drivers are particularly pronounced: Tiger Watch for April is showing that female motorists are seeing increases of 3.2% when shoppers compare car insurance prices with those of just a month ago. Male drivers saw average price increases of just over 1.2% - still almost four times the current rate of RPI. The more pronounced increase in pricing for women could be the result of insurers re-calibrating rates in advance of the EU Gender Directive that comes into force on December 21st 2012. This directive will outlaw the use of gender as a discriminator for the setting of insurance rates and industry observers are predicting that this will lead to increased car insurance prices for women, who have historically paid less for their insurance than men.
Looking at a broader picture, Britain's motorists are benefitting from lower prices than a year ago. Tiger Watch estimates that prices in April 2012 are around 3.7% below those quoted in the same month last year. Car insurance prices peaked in June 2011.
Tiger.co.uk's Commercial Director, Andrew Goulborn, commented: "Tiger Watch provides the most up to date snapshot of what's happening to car insurance prices and, following a few months of declining prices we have seen a considerable hike in rates in April, particularly for female drivers. Whilst it's great to see that, year-on-year, prices are down, it's worrying to see such big month-on-month increases returning to the market. A 2.2% monthly increase equates to a 26.4% annual rise – the kind of annual inflation we were seeing in 2010 and the first half of 2011."
"We will keep monitoring prices each month with a special focus on whether the increases we've seen for women in April continue across the remainder of the year. Our recommendation, as always, is that all motorists shop around at insurance renewal time using Tiger.co.uk and its excellent panel of over 90 car insurance brands."
About http://www.tiger.co.uk
Tiger.co.uk is a trading name of Call Connection Ltd. Tiger.co.uk is a UK based, independent motor insurance comparison site, offering insurance quotes from over 150 motor insurance brands. Call Connection Ltd is authorised and regulated by the Financial Conduct Authority (FCA number 308374).