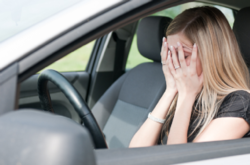 It's the first time we've seen average male pricing dip below women's prices.
(PRWEB UK) 9 August 2012
Tiger Watch, the UK's most up to date car insurance price monitor produced by comparison site Tiger.co.uk, has revealed its August 2012 results and they do not make happy reading for young women motorists. Overall the results, which are compiled from an analysis of hundreds of car insurance quotes each month, deliver good news for most UK drivers. Tiger Watch shows that prices have fallen by about 1.3% compared to a month ago and by 3.4% year-on-year.
However, the 20-year-old female driver profile that is analysed each month has seen prices increase by some 9.2% over the last year. The 25-year-old woman driver profile has also seen prices increase slightly year-on-year (by 0.6%). All other driver profiles analysed within the Tiger Watch study have seen prices dropping, with all over 35 year old male and female driver profiles seeing some significant price drops.
This adds up to the first set of Tiger Watch results which show that, on average, male drivers are getting relatively cheap car insurance quotes compared to women motorists, with pricing running at about 1.9% lower. This follows the trend of the last six months which has seen the historical "gender gap" disappear.
Commenting on the latest Tiger Watch results, Andrew Goulborn, Tiger.co.uk's Commercial Director, emphasised the significant change in young women's prices: "We've been producing this car insurance price monitor since January 2010 and for the first time we've seen average male pricing dip below women's prices in August. But it's not all women who are seeing increases – it's younger female drivers who are being hit hard, probably as a result of the EU Gender Directive that comes into play in four months' time.
Traditionally young women have enjoyed relatively cheap car insurance prices when compared with young male drivers but with the use of gender as a rating factor being outlawed at the end of this year, we're seeing insurance providers start to more closely align prices across the genders. As ever, we would advise all drivers to shop around using a quick and accurate independent car insurance comparison site like Tiger.co.uk".
About Tiger.co.uk
Tiger.co.uk is a trading name of Call Connection Ltd. Tiger.co.uk is a UK based, independent motor insurance comparison site, offering insurance quotes from over 150 insurance brands. Call Connection Ltd is authorised and regulated by the Financial Services Authority (number 308374).