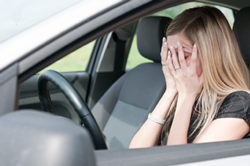 There is less good news for the UK's women drivers.
(PRWEB UK) 12 July 2012
Tiger Watch is the monthly car insurance price monitor produced by Tiger.co.uk. Based on an analysis of hundreds of car insurance quotes each month, the monitor has given motorists and the insurance industry a regular and up to date estimate of movements in policy pricing since its inception in 2010.
The results for July 2012 appear to show good news for Britain's motorists, with relative stability in the market - prices dropped 0.6% compared with last month and by 1.8% when compared to pricing from 12 months ago.
There is less good news for the UK's women drivers, however, with an analysis of prices by gender revealing another significant movement towards greater equality in policy pricing. Tiger Watch estimates that female drivers have seen their policies increase in price by around 0.1%, whilst their male counterparts saw prices drop by 1.2% compared to a month ago. This continues a recent trend that was highlighted by previous Tiger Watch data, with the historical policy price advantage that has been enjoyed by women being eroded since March of this year. Over this period, car insurance prices for women have soared by 5.6% - equivalent to an annualised inflation rate of around 17% - whilst male prices have dropped by 1.6%.
In relative terms, males are paying around 5% more for their policies in July 2012 than women drivers, whereas they were paying some 12.4% more just four months ago as the gender gap closes in anticipation of the introduction of the EU Gender Directive in December 2012 that prohibits the use of gender as an insurance rating factor.
Commenting on the July Tiger Watch results, Andrew Goulborn, Commercial Director of Tiger.co.uk, said: "What we are seeing is, broadly, continued stability in car insurance prices – they've been pretty flat for the last 12 months. However since March we've seen female pricing increase by 5.6% - more than five times the current rate of inflation. Essentially women drivers are seeing the results of what we consider to be an unfair EU ruling that comes into effect at the end of 2012. We would encourage all female drivers who are seeing their renewal prices increasing to shop around for cover using a great car insurance comparison site like Tiger.co.uk."
About http://www.tiger.co.uk
Tiger.co.uk is a trading name of Call Connection Ltd. Tiger.co.uk is a UK based, independent motor insurance comparison site, offering insurance quotes from over 150 insurance brands. Call Connection Ltd is authorised and regulated by the Financial Services Authority (number 308374).