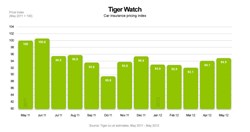 The results for May show a month-on-month increase in prices of just under 0.9%
(PRWEB UK) 21 May 2012
Every month the Tiger Watch team at Tiger.co.uk compare car insurance quotes from hundreds of companies in order to produce a monthly update on policy pricing. Tiger Watch provides the earliest market indication as to movements in car insurance pricing.
The results for May show a month-on-month increase in prices of just under 0.9%. Whilst this may sound relatively low, it does equate to an annualised figure of over 10% and this is almost three times the current rate of RPI. Better news for Britain's motorists however is that May 2012 prices are actually just over 5% lower than equivalent prices for the same month in 2011.
Within the May results is a clear differential in male and female pricing trends, continuing the relative increases seen in pricing for women drivers over the last three months as insurance providers look to the implementation in December 2012 of the EU Gender Directive that outlaws the use of gender as a specific rating factor in the calculation of insurance costs.
The UK's female drivers saw a monthly increase in their policy prices of almost 1.1%, compared to a 0.65% increase for their male counterparts. Policy prices for women motorists have historically been substantially lower than for men, particularly for younger car owners. Over the last three months, Tiger Watch has recorded a narrowing of this price differential, from 12.5% in March down to 9.8% in May.
Commenting on the latest Tiger Watch data Andrew Goulborn, Tiger.co.uk's Commercial Director, said: "Our Tiger Watch price monitor gives us a good snapshot as to what's happening in the market. Broadly we've seen a pretty stable marketplace since July 2011 but we are tracking a relative increase when we compare car insurance prices for female drivers and this is leading to an above-RPI headline figure. For Britain's women motorists in particular we'd recommend using a good car insurance comparison site like Tiger.co.uk rather than just accepting renewal prices from existing insurers".
About http://www.tiger.co.uk:
Tiger.co.uk is a trading name of Call Connection Ltd. Tiger.co.uk is a UK based, independent motor insurance comparison site, offering insurance quotes from over 140 insurance brands. Call Connection Ltd is authorised and regulated by the Financial Services Authority (number 308374).