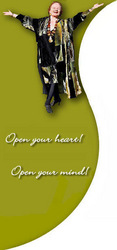 ...if we pursue life with the same intensity we pursue a lover, things will change for the better.
Alvin, TX (PRWEB) May 31, 2010
Amelie Diamant-Holmstrom is not your typical grandmother. At 82 years old, she can still strike a ballet pose standing on one leg and glide about as in the days when she was a young ballerina at the Vienna Opera House in Austria. She's stylish, elegant, wears high end clothes, spike heel boots and models. Yes, models for EGO Originals and upscale designer company for the Hollywood crowd. Her strut on the catwalk could even impress Tyra Banks. When asked where all that vitality originates she says she has learned to prioritize life, "I need health, love, humor and money, and I need them all in that order, blessed with spirituality."
While other grandmothers have settled for retirement and a rocking chair, Holmstrom has spent the last few years of her life becoming an author, life coach, and documenting the philosophies she has lived by which have kept her healthy, happy, and striving in a 3 part book series called, Courtship of Life (http://www.courtshipoflife.com). Where the underlying message is that if we pursue life with the same intensity that we pursue a lover, things will change for the better. Life needs to be pursued. Her mission - to inspire the world by putting "civility back into civilization." Join her - http://www.youtube.com/watch?v=EEEAmgx79ec
Her series has a lot to say about relationship problems, especially in light of the breaking news that plague people like Tiger Woods, Senator Edwards and the break down of Sandra Bullock's marriage to Jessie James. According to Holmstrom, "within each of us lies a little jerk and a big magician. We need to understand and dismiss the little jerk (which she believes is responsible for the problems of life) and court the big magician." She firmly believes that many of life's calamities could all be avoided by people understanding and using the power of making good choices. Her books , Conversations with Thomas, Destined for Greatness and Yes I Can, all speak on delivering that message to family, the educational system, and those pursuing dreams and trying to find purpose in life. Holmstrom's series is encouraging and inspirational.
Former US Senator Mark O. Hatfield writes these books are for "...anyone seeking a richer, more meaningful life and who understands that the future of world peace begins as the generous interaction of each individual with himself and those around him." Retired Brigadier General Fred M. Rosenbaum states, "I would strongly recommend Ms. Diamant-Holmstrom's well written trilogy to all who seek intelligence and education..."
Holmstrom is a holocaust survivor who saw first hand the destructive nature of bad choices on a global scale. Her father lost 11 siblings in concentration camps and despite that deep tragedy, taught his family not to hate, but to make wise choices and bring good to humanity. This strong foundation guided her throughout life and the Courtship of Life series encapsulates the philosophies that have helped her to "inspire the world" in her own way. She has done this through 40 years of teaching in the educational system in high school and the University of Washington, through helping the poor, raising funds for communities to make improvements, working along with her husband ( now deceased) Judge Holmstrom to impact wayward youth, and using her concepts of developing a quality life through correct choice. "If you do the right thing, at the right time, for the right reason - you can't go wrong."
Mrs. Holmstrom is encouraging the media and others to help spread her life changing message of empowerment. Holmstrom is also a proud recipient of the Stanford University Who's Who award. She strongly believes that is it only when relationships are strong that society can truly survive and prosper, and that too many destructive elements are tearing away family structure that is so critical to the next generation. That must end. To those who have had the very unfortunate experience of having their lives face woe she states, " It's okay to fall apart, but not for too long."
Mrs. Holmstrom has lived a very full life and given much to society. Her sisters are Dr. Evelyn Strange and Marianne Sheckler-Feder. Each of them in their own way has carried their father's message and their mother's artistic influence to the lives of others. They all strive to make the world a better place.
Mrs. Holmstrom is available for interviews and speaking engagements. Her books are available at http://www.courtshipoflife.com.
###