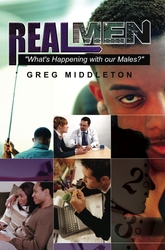 "Men have lost their focus and need to be reminded of core essential values."
Altadena, CA (PRWEB) December 31, 2009
Entertainment industry professional Greg Middleton has changed his tune. Formerly a composer and band member for music legends such as Rick James, Nina Simone, The Temptations and many others is now working to bring harmony into the lives of dysfunctional youths and young men. Middleton has tirelessly worked in his pursuit of stabilizing communities through his newly organized Real Men outreach. He has authored the book Real Men in conjunction with his seminar series of the same title.
As a kick off to expanding his outreach nationally, Middleton is challenging men to start their New Year off right. According to Middleton, now is the right time to become real men and what better way to start the process than in a fresh new year where results can be easily measured.
The challenge calls men to take a look at 5 critical aspects of their lives:
Leadership
Responsibility
Accountability
Fatherhood
Matrimony
In light of the recent infidelity scandal related to Tiger Woods, Middleton says, "basically men have lost their focus and need to be reminded of core essential values." Failure to implement any of those values "undermines the family unit and thus society." His call is to men between the ages of 18-39 because those are the years that fathering children mostly occurs and he believes that if he can impact young fathers then their offspring have a greater chance of being raised in a stable, nurturing, environment. "We have to be able to pass the torch to the next generation."
Written from a very entertaining, provocative and controversial view, Middleton's book Real Men identifies 25 family and relationship issues and provides simple, workable solutions that can improve individual lives and relationships. The topics cover a broad spectrum such as, infidelity, the dangers of male/female role reversal, the detriments of father's abandoning their children and understanding the complex dynamics of male/female relationships. Real Men is a valuable resource for any man seeking to become a better man. The book uncovers tough issues but provides empowering resolves.
Middleton is also a Certified Seminar Leader and goes throughout communities providing much needed insight. He works in conjunction with the Sheriff's Clergy Council which keeps him on the cutting edge of the current needs of dysfunctional young men. The council is a coalition of law enforcement, clergy and community all coming together for the common good of improving marriage relationships, saving families, and equipping men to become better men.
Middleton is available to bring his challenge to the media, civic groups, organizations, law enforcement, churches, schools and any other speaking opportunities. His message will stir the hearts of young and old. His book Real Men is available on line and through his website realmensolutions.com. For booking contact gmrealmen(at)gmail(dot)com. Start your New Year, better. Now is the right time to become real men.
###