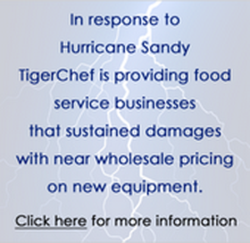 To help our friends get back on their feet as soon as possible, we are reducing normal markups on any new equipment on our website.
Suffern, NY (PRWEB) November 14, 2012
In the aftermath of Hurricane Sandy, TigerChef is reaching out to assist businesses affected by the storm. Located in New York, TigerChef was also impacted by Sandy and witnessed firsthand the devastation the hurricane wreaked on the region. Scores of restaurants, bars, hotels, and catering businesses suffered major equipment damages, making it difficult to get back on their feet. To help them on their road to recovery, TigerChef is offering new kitchen and restaurant equipment at near wholesale prices.
The offer, which runs until November 30, 2012, is open only to businesses in states which have been declared disaster regions by FEMA (VT, RI, MA, CT, NY, NJ, PA, MD, DC, VA and WV). Recognizing that a large variety of new restaurant equipment may be needed, TigerChef has designated a specific customer service representative to handle these orders. Commercial kitchens which need to replace equipment damaged by Hurricane Sandy can call TigerChef at 877-928-4377, ext 9206. The TigerChef representative will help businesses determine which equipment is most suitable to replace their damaged equipment and offer the best pricing possible.
"For over 30 years we have been providing services to thousands of companies in the food industry. We have built solid relationships with many of our fellow businesses," says TigerChef Chief Operating Officer Sol Jakubowicz. "Hurricane Sandy arrived suddenly, causing terrible damage. We realize that businesses did not budget for new equipment at this time and have numerous other costs associated with recovery. To help our friends get back on their feet as soon as possible, we are reducing normal markups on any new equipment on our website. As specialists in kitchen equipment, we will use our expertise to help in any way we can. We wish all affected businesses a speedy recovery."
In addition to this special offer, TigerChef features an ongoing financing option, allowing companies to purchase new equipment with monthly payments. Every item on the TigerChef website priced at over $500 is eligible to be purchased via financing. Purchases can be financed for up to 60 months. Monthly payments can be as low as $14.80 per month. TigerChef's financing option may be particularly relevant now as it can benefit companies trying to recover from Hurricane Sandy and preserve their cash flow.
TigerChef is also directing customers in need of assistance to the American Culinary Federation Education Foundation (ACFEF) Disaster Relief Task Force.
Restaurateurs and professional chefs value TigerChef as a full-service source for over 200,000 restaurant supply products. TigerChef takes pride in serving their customers from start to finish. They don't just sell products, they use their knowledge to help their customers craft their industrial kitchens into ideal workspaces. TigerChef staff serve as consultants regarding the products they sell and even assist with kitchen design. They work with hotel chains, restaurants, pizza shops, bars and other commercial facilities. For more information about TigerChef products contact Stacey(at)tigerchef(dot)com or call 877-928-4437.