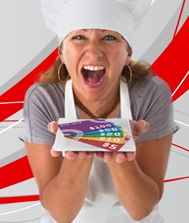 We hope the money saved will help them invest in the latest equipment [food establishments] need to take their service to the next level.
Suffern, NY (PRWEB) May 22, 2013
TigerChef, leading online supplier of restaurant supply and equipment, has announced the brand new TigerChef Loyalty Program. Created to reward dedicated customers who rely on TigerChef for their restaurant supply needs, the program offers food industry professionals an opportunity to earn points and save money every time they shop on the site.
For each dollar spent, customers will earn one loyalty point; for every 100 points, customers can save $1.00 on any subsequent order. Points become available 45 days after placing an order and customers can track their points by logging into their TigerChef account. In addition, an email will automatically be sent when reward points become available.
Earning reward points for shopping at TigerChef is as simple as it sounds. First, culinary professionals and students who visit the site are invited to open a free account and "Become a TigerChef". By merely signing up, customers receive a 5% discount on all TigerChef smallwares, as well as special monthly offers and exclusive discounts. Next, after logging into their account and placing an order, customers will earn reward points, calculated automatically based on what they buy.
This latest money saving program is but one of many unique financing opportunities, contests, and special deals TigerChef has created for businesses in the food industry (including restaurants, hotels, bars, pizza shops, ice cream parlors, B&Bs, cafeterias, and more). All year-round and especially at holiday time, TigerChef provides top-performing commercial kitchen supplies, catering supplies, and restaurant equipment at significant savings. Everything a chef could ever dream about can be found on the site, including disposable tableware, chef ware, utility carts, banquet and buffet supplies, and much more.
"We know how tough it is to make ends meet when running a food establishment in today's busy industry," says TigerChef Chief Marketing Officer Sol Jakubowicz. "Through our new Loyalty Rewards Program, not only are we able to show our appreciation and give back to our loyal customers, but we hope the money saved will help them invest in the latest equipment they need to take their service to the next level."
Restaurateurs and professional chefs value TigerChef as a full-service source for over 200,000 products, including bar supplies. TigerChef takes pride in serving their customers from start to finish. They don't just sell products, such as chef supplies and kitchen equipment; they use their knowledge to help their customers craft their industrial kitchens into ideal workspaces. TigerChef staff serve as consultants regarding the products that they sell and even assist with kitchen design. They work with hotel chains, restaurants, and other commercial facilities. For more information about TigerChef products contact Stacey(at)tigerchef(dot)com or call 877-928-4437.