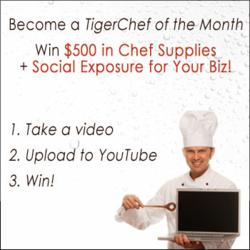 We are pleased to present yet another unprecedented and exciting opportunity for food industry professionals...
Suffern, NY (PRWEB) December 10, 2012
TigerChef, leading online supplier of restaurant equipment and catering supplies, is offering culinary students and professionals an opportunity to become the "TigerChef of the Month". By sharing an original video of their favorite recipe, outstanding cooking technique, or by showcasing a unique aspect of their establishment, entrants are eligible to win $500 in chef supplies and gain critical social exposure for their business.
The contest is open to anyone working in the food service industry – such as professional chefs, culinary students, restaurateurs, caterers, baristas, bartenders & mixologists. Each month, TigerChef will review the video submissions and choose one winner, who will be declared the TigerChef of the Month. In addition to being awarded a $500 gift certificate at TigerChef, the winner's video will be socialized across the internet (with posts on Facebook, Twitter, LinkedIn, Pinterest, Google+, YouTube, and more) and a press release will feature the selected video.
To enter, participants must first sign up to Become a TigerChef. Opening up this free account entitles participants to receive a 5% discount on all TigerChef smallwares, as well as special monthly offers and exclusive discounts. Next, participants should upload their original video to YouTube and email the link to contests(at)tigerchef(dot)com. Contest winners will then be notified via email.
The winner will receive $500 worth of kitchen and restaurant supplies, including food preparation equipment, disposable tableware, bar supplies, catering supplies, and much more.
"We are pleased to present yet another unprecedented and exciting opportunity for food industry professionals to receive the type of recognition they deserve," says TigerChef C.O.O. Sol Jakubowicz. "Although often relegated to the kitchens, counters or the bar, professionals are unwavering in their dedication to their craft and to perfecting their skills. Our contest is a way to "pay it forward" and shine a light on these talents in recognition of the pleasure they bring to so many customers. We will honor them with our biggest compliment – TigerChef of the Month".
Restaurateurs and professional chefs value TigerChef as a full-service restaurant supply source for over 200,000 products, including bar supplies. TigerChef takes pride in serving their customers from start to finish. They don't just sell products, such as chef supplies and kitchen equipment; they use their knowledge to help their customers craft their industrial kitchens into ideal workspaces. TigerChef staff serve as consultants regarding the products that they sell and even assist with kitchen design. They work with hotel chains, restaurants, and other commercial facilities. For more information about TigerChef products contact Stacey(at)tigerchef(dot)com or call 877.928.4437.