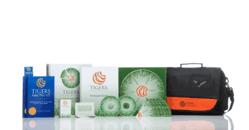 "In less than 60 minutes, this award winning team building activity reveals real workplace strengths and weaknesses in a non-threatening atmosphere.
Bend, OR (PRWEB) April 17, 2012
TIGERS Success Series, Bend, OR: In this uncertain economic climate, having an interactive team building exercise that improves employee engagement and retention can make the difference between thriving as an organization or struggling just to make payroll. There is no reason why an organization should experience storming with communication breakdown, escalating resentments, swarming office gossip, poor morale, or high turnover.
Introducing the TIGERS Team Wheel™ game, TIGERS® founder Dianne Crampton is presenting flexible options for small and large organizations alike to build team environments that prosper even in down economic times. Meeting all standard and best practices of instructional training design, the TIGERS Team Wheel™ game is a proven leadership-training tool for newly forming and existing teams. It cuts short the stage of team growth called "storming" that is often plagued by confusion, misunderstandings, and conflict.
"Instead of cooperating, where everyone shares in the success of the company, you have individuals who withhold information, protect turf, or compete against others for political advantage. Imagine what would happen if that energy were directed to seizing top market share!" states Dianne.
TIGERS® is a researched-based group development model that emerged from the question, "What is necessary to develop an ethical, quality-focused, cooperative and successful group of people?" TIGERS® surfaced from group dynamic research at Gonzaga University in business, education, and psychology. From these studies, six principles were identified that contribute to highly cohesive, cooperative and successful teams. These principles are trust, interdependence, genuineness, empathy, risk and success. They form the acronym, TIGERS®.
Shortly after Dianne's research was concluded, she invented the TIGERS Team Wheel™ game for a presentation to the National Institute of Applied Business Ethics. It was her goal to teach the model in less than 60 minutes and take senior United States ethicists through a process that fully engaged them in learning the behaviors that build strong teams and behaviors that will predictably tear them down.
Dianne Crampton's many accomplishments include working with organizations such as Costco, AT&T, and Boeing to achieve a workplace or project atmosphere of cooperation with sustainable success. Northrop-Grumman beta tested the game with highly successful results for a pending company wide reorganization. Merrill Lynch nominated Dianne for the western region Inc. Magazine Entrepreneurial awards where she received honorable mention for her TIGERS Team Wheel™ team development game. Through this innovative and interactive team building game, Dianne is providing organizations with a team building resource to not only succeed, but be among the elite, preferred employers.
"In less than 60 minutes, this award winning team building activity reveals real workplace strengths and weaknesses in a non-threatening atmosphere. These revelations are the building blocks in creating a more collaborative workplace environment and a team that meets and exceeds expectations whether the group is composed of two people or hundreds," says Dianne.
Achieving successful results industry wide, The TIGERS Team Wheel™ game has served manufacturing, engineering, project management, aerospace, community stakeholder, school site council and not for profit teams. Boards of directors, church groups, youth groups, and family counselors working with blended families have also seen a tremendous benefit from the game.
The TIGERS Team Wheel™ game complements existing corporate policies and structures. The game has been instrumental in restoring effective communication and team collaboration within these diverse workplace environments:

Mergers
Companies undergoing cultural change
Not-for-profit organizations building staff and volunteer competencies
Entrepreneurial founding teams planning to hire their first tier of employees
Community groups building grass roots initiatives
The TIGERS Team Wheel game and team building tool kit is also compatible with six sigma, lean manufacturing, communications, diversity, project management and conflict resolution training.
Whether you are a small business owner, entrepreneur, or executive looking to radically shift how your team cooperates and experiences conflict, the TIGERS Team Wheel™ takes the guesswork out of building team cohesion. Know exactly what your team needs to improve morale, reduce stress, improve performance, and increase retention.
"It costs approximately $8,500 in direct and indirect costs to replace an entry level employee who leaves the company. A cooperation-based work environment focused on building champion teams is one effective solution to the dilemma. Companies need to hire the right people who fit their culture and the TIGERS Team Wheel™ is a proven team building activity that helps leaders identify preferred behaviors and then seek new employees who have demonstrated these behaviors in previous work experience," says Dianne.
Pricing for the TIGERS Team Wheel™ game begins at $997 with the ability to upgrade to more extensive packages. If for any reason you are not satisfied with your purchase, TIGERS® offers a 30-day unconditional guarantee on the game. Return the products in resalable condition and get a full refund with no questions asked. (Shipping fees are non-refundable).
For more information on the TIGERS Team Wheel™, call 877-538-2822.
###